Mundka fire: 29 still missing; death toll likely to rise
May 14, 2022 16:10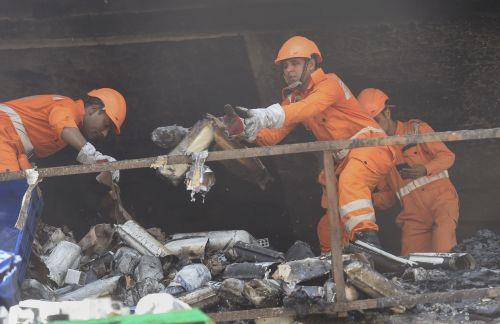 A day after a massive building fire in outer Delhi's Mundka claimed 27 lives, frantic relatives were still searching for their loved ones as police said 29 people were unaccounted for.
According to the fire department, the death toll could rise up to 30 as charred remains were found in the building during cooling operations on Saturday morning. Twelve injured were undergoing treatment at a hospital in Delhi.
They said the four-storey building, which did not have a fire safety certificate, had a single entry and exit point which could have been the reason for the high number of casualties.
"The building had a single escape route which is why there were so many casualties. Twenty-seven people have died," Chief Fire Officer Atul Garg said.
Officials said there was only one narrow staircase for entry and exit which made escape from the burning building difficult.
Garg said it is suspected that an explosion in an AC may have triggered the fire.
Harish Goel and his brother Varun Goel, owners of a CCTV camera and router manufacturing and assembling company, from whose office the fire is suspected to have started, have been arrested, Deputy Commissioner of Police (Outer) Sameer Sharma said.
Garg added it was difficult to ascertain whether the remains found on Saturday morning were of one person or more.
Of the 27 deceased, seven have been identified so far as Tania Bhushan, Mohini Pal, Yashoda Devi, Ranju Devi, Vishal, Drishti and Kailash Jyani, the DCP said.
Delhi Chief Minister Arvind Kejriwal and his deputy, Manish Sisodia, visited the spot on Saturday. The chief minister announced a compensation of Rs 10 lakh each to the kin of the deceased and Rs 50,000 for those injured in the fire, which started from the first floor of the building.
Lieutenant Governor Anil Baijal said he was "deeply pained" by the loss of lives in the tragedy, and called for immediate steps to prevent such incidents in the future. He also extended his condolences to the bereaved families. -- PTI
« Back to LIVE
TOP STORIES