BJP 'goons' attacked minister Satyendar Jain's convoy, claims AAP
March 07, 2022 09:19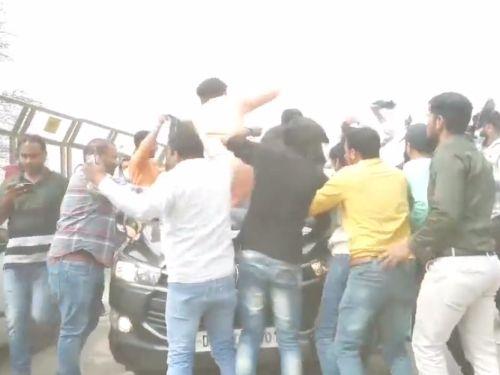 The Aam Aadmi Party on Sunday alleged that Bharatiya Janata Party "goons" attacked the convoy of its senior leader and Delhi Health Minister Satyendar Jain in the capital.
The Delhi unit of the BJP, however, rejected the charge. The party said residents of the Chhawla area in Delhi's South-West district had protested against the new liquor policy of the Arvind Kejriwal government.
In a series of tweets, the Aam Aadmi Party alleged that the Delhi unit of the BJP deployed its "hooligans" to attack Jain's convoy as it realised that it is going to lose the upcoming civic body polls.
"BJP GOONS ATTACK DELHI MINISTER @SatyendarJain's CONVOY! BJP is losing MCD elections, hence they are down to what they know best - VIOLENCE!," AAP tweeted.
On the microblogging site, the party also posted a video footage of the alleged attack.
"This is the BJP. It's the party of hooligans and ruffians. When they are losing, they show their position. People will tell them their position," Delhi Chief Minister and AAP national convenor Arvind Kejriwal said in a Hindi tweet.
Party sources said the incident took place at Goyla Dairy-Najafgarh drain culvert around 12 noon.
"There was no goondaism against Minister Satyendar Jain, only local residents of the Chhawla area protested against the new liquor policy of the Kejriwal government," Delhi BJP spokesperson Praveen Shankar Kapoor said in a statement.
"It is really sad that the Aam Aadmi Party, which was born out of a agitational movement today cannot tolerate a people's protest," he added.
Delhi BJP media relations head Harish Khurana also hit out at AAP and condemned Kejriwal for his remarks.
"The kind of words that Arvind Kejriwalji has used that they were BJP goons and they should be shown their position, the BJP condemns it. Arvind Kejriwal Saheb you should know that they were not from the BJP. They were locals protesting against your excise policy. You are playing a very cheap politics," he said in a video message.
« Back to LIVE
TOP STORIES