Sena leaders arrive at Matoshree to meet CM
June 23, 2022 12:17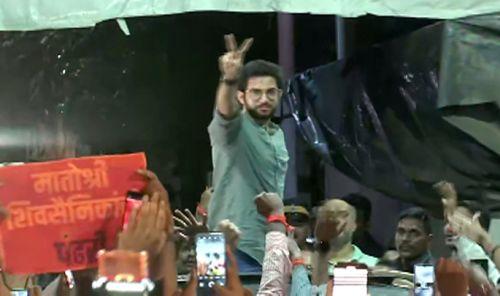 Aaditya Thackeray flashes the victory sign after reaching Matoshree last night
Shiv Sena leaders arrive at the Thackeray family residence, Matoshree, to meet CM Uddhav Thackeray.
Last night, Thackeray greeted hundreds of Shiv Sena supporters gathered outside his residence.
The chief minister left his official residence 'Varsha' along with his family members yesterday after he expressed his readiness to step down if rebel MLAs returned to Mumbai and made such a demand.
Maharashtra minister Aaditya Thackeray along with his mother Rashmi Thackeray and brother Tejas Thackeray followed Uddhav Thackeray in a car as left the official residence.
Luggage was also seen being moved out of the chief minister's official residence.
« Back to LIVE
TOP STORIES