Lunch with three Economics Nobel Laureates looks like this...
September 20, 2021 15:13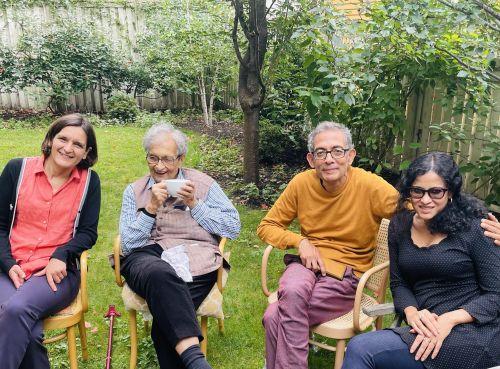 Actress Nandana Sen tweets this memorable photograph with her father and Nobel Laureate Amartya Sen, writing, "Two #Nobel Laureates at lunch is where I draw the line,' said my husband John. "But today we are eating with THREE?' :-) " Such lovely September afternoon, excessive Nobels notwithstanding!
"Photos: John Makinson
#AmartyaSen #AbhijitBanerjee #EstherDuflo @NobelPrize."
From left to right are: Esther Duflo, Amartya Sen, Abhijit Banerjee and Nandana. Duflo and Banerjee (who are married to each other) won the Nobel Prize in Economics, along with economist Michael Kremer, for their "experimental approach to alleviating global poverty" in 2019.
Amartya Sen won the Nobel Prize for Economics in 1998 for his theoretical, field, and ethics work in welfare economics and for his research advancing the understanding of social-choice theory, poverty, and the measurement of welfare.
« Back to LIVE
TOP STORIES