Now, Swamy calls Modi govt 'failure'
November 25, 2021 11:15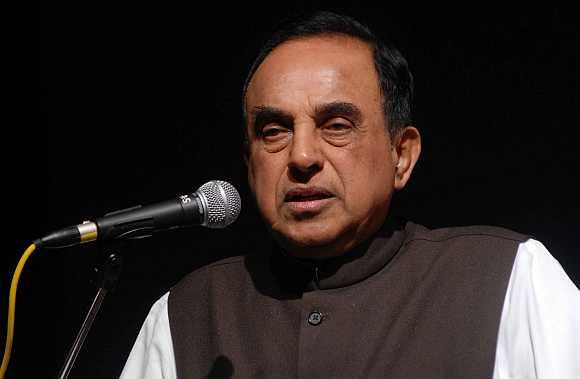 BJP MP Subramanian Swamy sent out a pre-dawn tweet, a report card on the Narendra Modi government's performance.
At 4:55 am, Swamy, who met Trinamool Congress chief Mamata Banerjee in Delhi yesterday, tweeted:
"Modi Government's Report Card:
Economy---FAIL
Border Security--FAIL
Foreign Policy --Afghanistan Fiasco
National Security ---Pegasus NSO
Internal Security---Kashmir Gloom
Who is responsible?--Subramanian Swamy."
When @BashaSarathi asked, "What about petrol and diesel price?", Swamy responded, "Ask Modi."
On Wednesday, he praised West Bengal Chief Minister Mamata Banerjee, comparing her with the likes of political stalwarts like Jayaprakash Narayan, Morarji Desai, Rajiv Gandhi, Chandrashekhar, and P V Narasimha Rao. He tweeted that she meant what she said and said what she meant. In Indian politics that is a rare quality, he said.
Today, in reply to a tweet on whether the Narendra Modi had "developed Gujarat or was it a jumla", Swamy replied: "Ask Modi's--till recently Economic Adviser--Arvind Subramanian. Or Google his Business Standard 2013 article and read it."
« Back to LIVE
TOP STORIES