Modi-Boris virtual summit brings 1 bn pounds worth of deals
May 04, 2021 19:35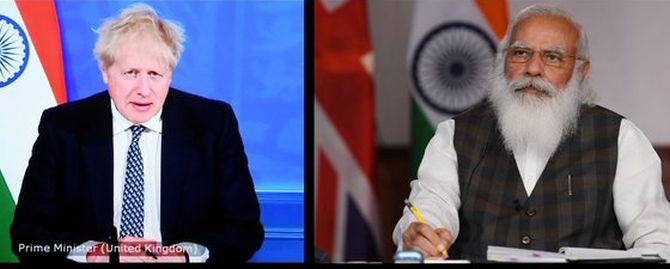 Britain has finalised 1 billion pounds worth of new trade and investment with India, creating over 6,500 jobs in the United Kingdom, to be signed off at a virtual summit between Prime Minister Boris Johnson and his Indian counterpart Narendra Modi on Tuesday.
The investments confirmed by Downing Street on Monday evening form part of an Enhanced Trade Partnership (ETP), which will set the ambition to double the value of UK-India trade by 2030 and declare a shared intent to begin work towards a comprehensive Free Trade Agreement (FTA).

"Like every aspect of the UK-India relationship, the economic links between our countries make our people stronger and safer," Johnson said.

"Each and every one of the more than 6,500 jobs we have announced today will help families and communities build back from coronavirus and boost the British and Indian economies.
"In the decade ahead, with the help of [the] new Partnership signed today and a comprehensive Free Trade Agreement, we will double the value of our trading partnership with India and take the relationship between our two countries to new highs," he said.

The Confederation of British Industry (CBI) President and British Indian entrepreneur Lord Karan Bilimoria said the Enhanced Trade Partnership will usher in a new era of UK-India relations.
"It shows the world the strength of our relationship, Bilimoria said. "Paving the way for a future UK-India Free Trade Agreement and setting the ambition of more than doubling bilateral trade from the current level of GBP 23 billion by 2030.
"As leaders in tech and innovation, this enhanced partnership will unlock opportunities for businesses, boost job creation and growth across the country," he said.
The trade and investment package unveiled by Britain contains over 533 million pounds of new Indian investment into the UK, covering areas such as healthcare and technology.
This includes a 240 million pounds investment by the Serum Institute of India in the UK into its vaccine business and a new sales office in the country, expected to generate new business worth over $1 billion. -- PTI
« Back to LIVE
TOP STORIES