Don't miss today: Harsh Mander to deliver 2nd JB D'Souza memorial lecture
June 03, 2021 14:48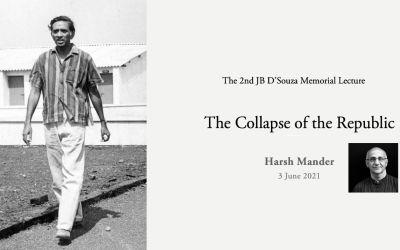 As IAS officer JB D'Souza -- JB, or just Bain to all who knew him well -- held a number of fascinating jobs.
He was in charge of rehabilitating East Pakistan refugees in Chandrapur; general manager of Bombay's BEST transport undertaking; the city's municipal commissioner; Maharashtra's chief secretary; and more. He retired in 1979, as secretary of the works and housing ministry, Government of India.
Since he died in 2007, his family has kept JB's memory alive through a lecture series. And it is fitting that this year, former IAS office Dr Harsh Mander will deliver the Second JB D'Souza Memorial Lecture on June 3, JB's 100th birthday.
Mander, a peace and human rights worker, writer, researcher and teacher, works with survivors of mass violence, hunger, homeless persons and street children. From late 2017, he has led the Karwan-e-Mohabbat to counter hate and fear with love and solidarity.
Join the Second JB D'Souza Memorial Lecture on June 3 at 6.30 pm IST on Youtube, by clicking on
this link
.
« Back to LIVE
TOP STORIES