Law against love jihad in MP soon, says minister
November 17, 2020 12:40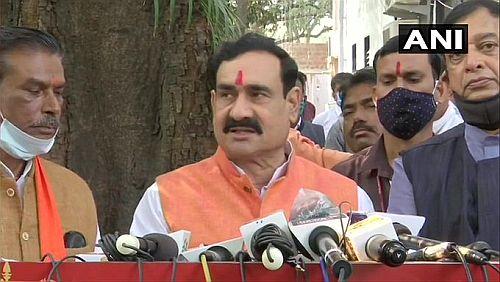 Madhya Pradesh Home Minister Narottam Mishra today said the state government would soon bring in a law to counter the 'problem of love jihad'.
He said the Madhya Pradesh government was making preparations to introduce Madhya Pradesh Freedom of Religion Bill, 2020 in the Assembly. "It'll provide for 5 years of rigorous imprisonment. We're also proposing that such crimes be declared a cognizable and non-bailable offence," Narottam Mishra said and added that the Bill would be introduced in the next session.
He said that under this, the person who has been converted, their parents/siblings will have to mandatorily file a complaint for action. A religious leader who is converting the person will have to inform the District Magistrate one month in advance.
"There will be a provision to declare marriages taking place forcefully, out of fraud or by tempting someone, for religious conversion, null and void. Those assisting in committing this crime will also be considered a party to the crime," the MP HM said.
« Back to LIVE
TOP STORIES