Govt has NO data on stranded migrants: RTI
May 06, 2020 13:31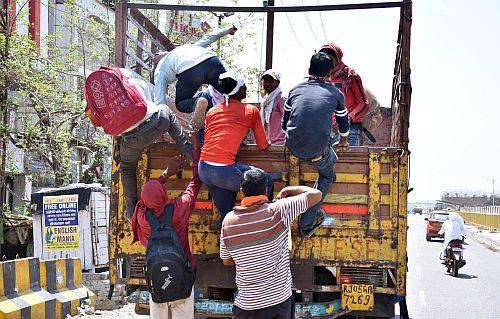 The office of Chief Labour Commissioner, which had ordered a count of stranded migrant labourers in the country last month, does not have any data on it, the Union Labour Ministry told an RTI activist. Applicant Venkatesh Nayak from Commonwealth Human Rights Initiative said the data remains unavailable even after the CLC, on April 8, directed its regional office to count within three days every labourer who was stranded after the lockdown imposed to combat coronavirus.
The circular issued by the Chief Labour Commissioner said a huge number of migrant workers were impacted due to the lockdown. A number of them are stranded and placed in shelters, relief camps arranged by state governments, employers at work place, and also at some clusters, it said.
"In view of above, comprehensive data in respect of the migrant workers are urgently required within three days," it said, giving three categories in which data should be collected--relief camps, employers and where labourers are clustered.
Nayak said he filed a Right to Information application after waiting for almost two weeks for the official announcement of the results of the enumeration exercise.
In his application, he sought to know the state-wise names of districts from which data about the stranded migrant workers has been received. He also asked the CLC to provide district-wise numbers of male and female migrant workers belonging to each of the three categories from each state, occupation-wise number of male and female migrant workers, the sector-wise number of male and female migrant workers and state-wise cumulative figures for male and female migrant workers. -- PTI
Image: Migrant workers try to climb aboard a truck to reach their hometowns. Pic: ANI
« Back to LIVE
TOP STORIES