India's COVID-19 tally 649 with 42 fresh cases
March 26, 2020 16:52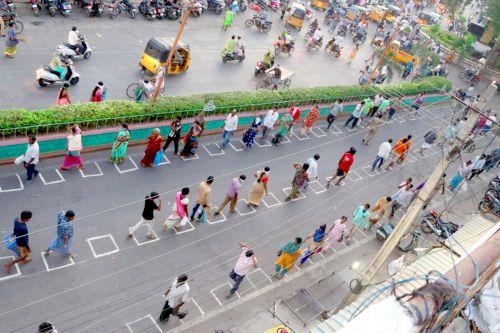 People at a vegetable market follow social distancing
Ministry of Health and Family Welfare briefing on the COVID-19 situation.
-- 42 fresh coronavirus cases and four deaths have been reported in the last 24 hours. -- Total number of cases stands at 649. India geared for COVID-19 challenge.
-- Work has started in around 17 states for COVID19 dedicated hospitals.
-- Govt is taking steps to ensure that production, supply or distribution of essential goods & services do not get affected during
-- States are working to provide food and shelter to migrant workers.
-- While the numbers of COVID-19 cases are increasing, the rate at which they are increasing appears to be relatively stabilizing. However, this is only the initial trend.
-- Social distancing can be effective intervention in breaking chain of coronavirus transmission.
-- COVID-19 does not spread through mosquitoes.
-- There is still no hard evidence to say there has been community transmission of coronavirus in India. Community transmission phase of COVID19 will start if the community & we (the govt) don't work collectively & follow guidelines. But it would never happen in India if we follow social distancing & treatment properly.
« Back to LIVE
TOP STORIES