Vistara announces 5-20% pay cut for 40% staff
June 30, 2020 15:55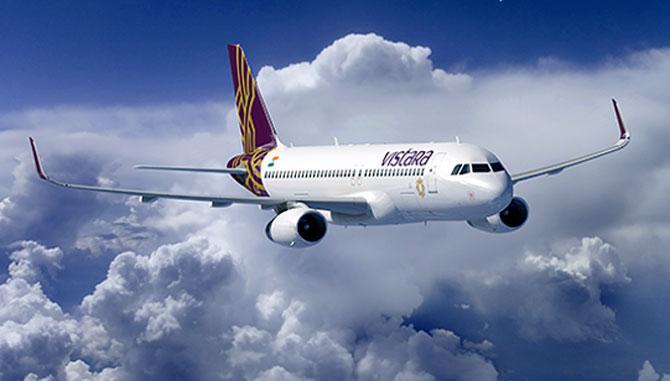 Vistara on Tuesday announced a pay cut between five to 20 per cent till December this year for around 40 per cent of its employees as cash flow continues to be adversely affected due to the coronavirus pandemic. The full-service carrier has more than 4,000 employees on its payroll.
"About 60 per cent of our employees are not impacted by the pay cut," a Vistara spokesperson said. Vistara CEO Leslie Thng told employees in an email: "From 1st July, 2020, to 31st December, 2020, I will take a 20 per cent pay cut and we will be implementing a monthly pay cut scheme for staff (except for pilots as follows): 1) 15 per cent pay cut for staff in Level 5 and 4, 2) 10 per cent pay cut for staff in Level 3 and 2, and licensed engineers in Level 1C, 3) 5 per cent pay cut for staff in Level 1 with monthly CTC equal or more than Rs 50,000."
"For pilots, we will continue with the reduction of monthly base flying allowance to 20 hours for July to December 2020. Allowances will also be adjusted for pilots under certain categories of training," he added.
Till April, Vistara's pilots were getting base flying allowance, which is a fixed component of the salary, for 70 hours per month. Thng told employees the airline is operating at less than 30 per cent of its original network and the passenger loads on its flights are also not as strong as before the coronavirus-induced lockdown.
"Our financial performance will continue to be negatively affected by COVID-19 as travel confidence and demand will take a while to fully recover to pre COVID-19 level," he added. -- PTI
« Back to LIVE
TOP STORIES