PLA's 'mobile operational units' may be involved in Ladakh
June 17, 2020 11:16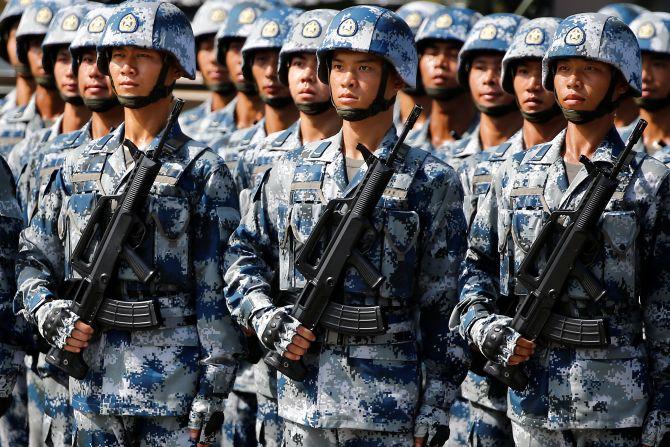 Dennis J Blasko
, a retired US Army lieutenant colonel, served as the US army attache' in Beijing and Hong Kong. Author of The Chinese Army Today, Colonel Blasko is a Senior Fellow at The Jamestown Foundation, a think-tank based in Washington, DC.
This is what he told Rediff.com about Monday night's hostilities on the Line of Actual Control:
Normally the PLA patrols its borders with border defence troops, which in Xinjiang and Tibet, are organised primarily into border defence regiments, battalions, and companies that are stationed near the border.
These units man numerous outposts to observe activity in their areas of responsibility and conduct patrols between outposts by foot, on horseback, or by vehicle depending on the terrain (perhaps sometimes using small UAVs).
These patrols routinely are performed by squads (about eight men) or sometimes platoons (about 40).
In general, they are very lightly armed with the mission to observe and report rather than fight.
One border defence regiment in Tibet has a mechanised infantry battalion with APC/IFVs and self-propelled mortars, but they are the exception to the rule.
I am not aware that any border defence unit has organic engineer units, and any engineer units involved probably came from non-border defence units (though I am open to new information to correct anything I say).
The reporting I have seen about the current situation indicates that the units involved likely come from the PLA's 'mobile operational units', organised mostly into the 13 group armies (with their subordinate brigades), but also includes the combat units subordinate to the Tibet and Xinjiang Military Districts.
Three combined arms (or mountain) brigades plus support brigades are stationed under the Tibet MD command and four infantry divisions plus support brigades are assigned to the Xinjiang MD.
It appears that based on Chinese news articles two or three combined arms brigades from the 77th Group Army, headquartered in Sichuan, were transferred into Tibet during the 2017 reorganisation, or elements stationed there temporarily.
All of these headquarters command engineer units that could be used for the construction work reported.
All of these units routinely train on the 'Tibetan plateau' or on high-altitude plains, not all of which are in the Tibet Autonomous Region.
As you know, the areas currently in dispute are widely separated and PLA forces could come from either Tibet or Xinjiang, depending on the specific location.
But based on the reporting available to me that some 5,000 to 10,000 PLA troops are involved in the various areas (some reports indicate they are parts of brigades, others talk of battalions, which are subordinate to brigades but also to the regiments of divisions in Xinjiang), I do not have enough details to comment on the types or size of units involved.
I have not seen any images of the recent developments, so if there are any available perhaps that would shed on some light on these questions, but maybe not if the photos only show soldiers, and no equipment.
« Back to LIVE
TOP STORIES