Bengaluru goes under lockdown for a week
July 14, 2020 22:03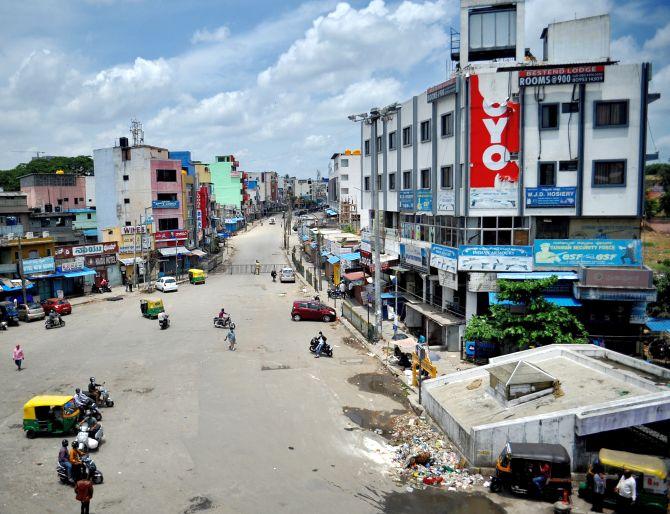 Nearly a dozen states have so far reimposed lockdown in selected areas for varying periods to check the surge in Covid-19, while Bihar on Tuesday extended the curbs to the whole of the state from July 16 to July 31.
A week-long total shutdown came into effect in Bengaluru from 8 pm on Tuesday. Karnataka's Dharwad and Dakshina Kannada districts too will come under lockdown for nine days and seven days respectively from Wednesday.
There was a huge rush of customers at grocery stores and liquor shops ahead of the lockdown.
Across the state, 41,581 people have tested positive for coronavirus including over 19,000 cases in Bengaluru.
Besides Karnataka, states like Tamil Nadu, Kerala, Uttarakhand, Uttar Pradesh, Maharashtra, Assam, West Bengal, Arunachal Pradesh and Meghalaya have already announced area-wise lockdown for different durations.
West Bengal on Tuesday extended the total lockdown in containment zones till July 19, the state home department said.
Sikkim also imposed total lockdown in Rongli and Pakyong sub-divisions from 6 am on Wednesday.
Bihar Deputy Chief Minister Sushil Kumar Modi announced the 15-day total lockdown in the state from July 16. A shutdown had earlier been imposed in nearly a third of its 38 districts.
The state government order, which cited a ministry of home affairs communication of June 29 for containment of the pandemic, also said the decision was taken in view of the "alarming surge in COVID 19 cases...in last three weeks".
The state's tally rose by more than two-fold during the period.
« Back to LIVE
TOP STORIES