Capital under multi-layered, ground-to-air security cover for Republic Day celebrations
January 26, 2020 09:18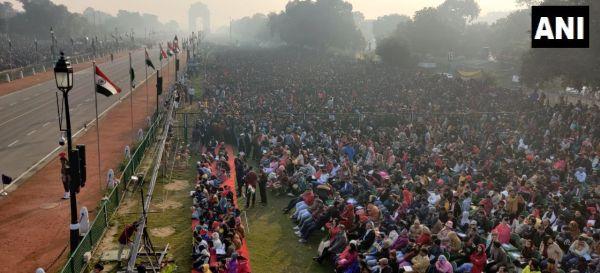 With the 71st Republic Day celebrations set to begin shortly, the entire national capital has been put under a multi-layered, ground-to-air security cover with thousands of armed personnel keeping a tight vigil over it, including the celebration venue Rajpath.
Aided by dozens of drones in the air and hundreds of CCTV cameras and facial recognition devices, besides several anti-aircraft guns on the ground, the security personnel are keeping a hawk-eyed vigil over Rajpath, where President Ram Nath Kovind and Prime Minister Narendra Modi will be celebrating the occasion along with chief guest, Brazilian President Jair Bolsonaro, and other dignitaries, besides thousands of citizens.
Over ten thousand security personnel have been deployed to keep vigil over the Republic Day celebrations on Sunday, said officials.
Sharpshooters and snipers have been deployed atop high-rise buildings to keep watch on the eight-km-long parade route from Rajpath to the Red Fort, they said.
The celebration venue Rajpath will remain inaccessible to general traffic till 12 noon, till when the entry and exit gates of the Central Secretariat, Udyog Bhawan, Patel Chowk and Lok Kalyan Marg metro stations too will remain closed, beginning from 8.45 am.
The Delhi police has also installed its facial recognition devices at all entry gates of the R-Day celebration venue to identify miscreants and suspects, said officials.
Special security arrangements have been made for Brazilian President Bolsonaro, who is the chief guest for the Republic Day parade, Deputy Commissioner of Police (New Delhi) Eish Singhal had said earlier.
More than 2,000 Traffic Police personnel have been deployed to ensure smooth flow of the traffic and facilitate spectators reach the venue.
Hundreds of CCTV cameras too have been installed as part of the security arrangements, including at least 150 cameras in areas covering the Red Fort, Chandni Chowk and Yamuna Khadar, they said.
"We have a four-layered security arrangement. Inner, middle, outer and one along the border areas across the national capital," said Singhal, adding drones have also been deployed to aid and assist security personnel on the ground and give feed to them on the general and security scenario around them.
"Around 5,000 to 6,000 Delhi police personnel have been deployed in the New Delhi district along with 50 companies of paramilitary forces," he added.
-- PTI
« Back to LIVE
TOP STORIES