Debate CAA with a bearded man: Owaisi to Shah
January 22, 2020 12:37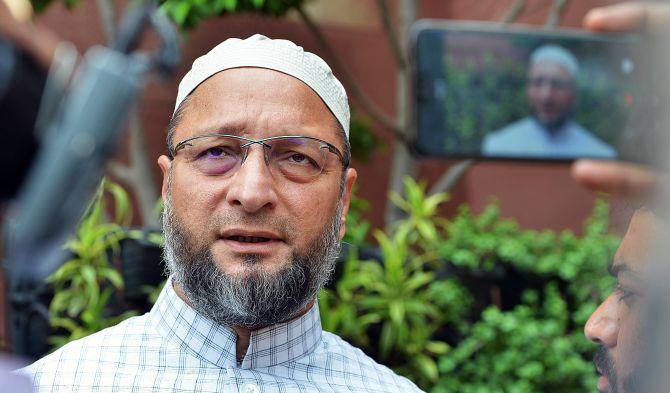 "Why debate with them? Debate with me," said All India Majlis-e-Ittehadul Muslimeen chief Asaduddin Owaisi on Tuesday after Union home minister Amit Shah challenged Opposition leaders Rahul Gandhi, Mamata Banerjee and Akhilesh Yadav for a debate on the newly enacted Citizenship Amendment Act.
Addressing a gathering in Karimnagar, the Lok Sabha MP said that he is ready for a debate on the CAA, the National Population Register and the National Register of Citizens.
"You should debate with me. I am here. Why debate with them? The debate should be with a bearded man. I can debate with them on CAA, NPR and NRC," he said.
Shah had on Tuesday attended a party event in Lucknow where he said that the Opposition is spreading rumours about the CAA.
"I have come to you for a Jan Jagaran Abhiyan in Lucknow. Our government is hardly 8 months old but we are conducting this campaign to dispell the falsities being spread by the opposition against CAA. I challenge Rahul Gandhi, Mamata Banerjee and Akhilesh Yadav to engage in a debate on CAA," he said. -- ANI
« Back to LIVE
TOP STORIES