Cong delegation meets Prez, demands HM's head
February 27, 2020 13:10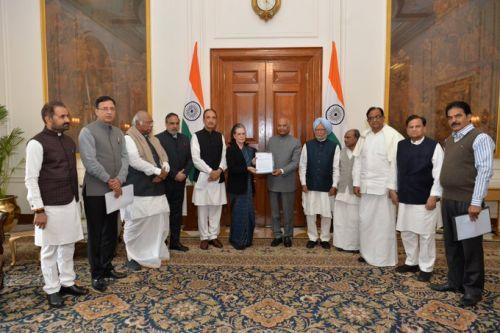 A delegation from the Indian National Congress led by Congress interim president Sonia Gandhi and former Prime Minister Dr Manmohan Singh called on President Ram Nath Kovind at Rashtrapati Bhavan today.
"We urged the President to use his power to protect 'rajdharma'. We called upon the President to suggest to him that what has happened in the last four days in Delhi is a matter of great concern and a matter of national shame in which at least 34 people have died and 200 people injured; it is a reflection on the total failure of the Central government," Dr Manmohan Singh said.
The delegation urged the President to call for the removal of Union home minister Amit Shah and accused him of abdication of duty.
"We handed over our demands to President Kovind in a memorandum. The Centre and the Delhi govt were mute spectators to violence," Sonia Gandhi said after submitting the memorandum.
"We call upon you (President) to ensure that life, liberty, and property of citizens are preserved. We also reiterate that you should immediately call for the removal of the Home Minister for his inability to contain violence," she said.
« Back to LIVE
TOP STORIES