Reactions: Delhi polls indicate winds of change in India
February 11, 2020 15:26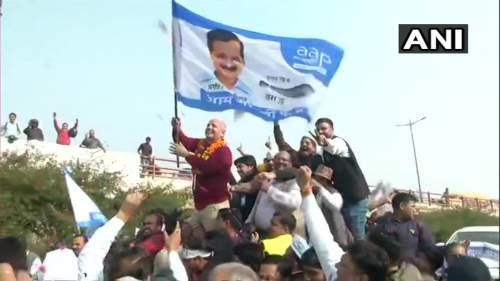 NCP chief Sharad Pawar: Delhi Assembly poll results not surprising. I don't think BJP's series of defeat will stop soon. Delhi poll results indicate 'winds of change' blowing in the country.
Atishi Marlena (AAP candidate who won from the Kalkaji seat): Thank you to all the people of Delhi for putting their faith in @AamAadmiParty
and voting for politics of development. In the last 5 years we have endeavoured to make Delhis Govt. Schools the best in the country and now well make Kalkaji the best constituency in Delhi!
Sharmistha Mukherjee (Congress leader): BJP playing divisive politics,Kejriwal playing smart politicsand what r we doing? Can we honestly say that weve done all 2 put our house in order? We r busy capturing Congress whereas other parties are capturing India. If we r 2 survive, time 2 come out of exalted echo chambers!
P Chidambaram: AAP won, bluff and bluster lost. The people of Delhi, who are from all parts of India, have defeated the polarising, divisive and dangerous agenda of the BJP. I salute the people of Delhi who have set an example to other states that will hold their elections in 2021 and 2022
Yogendra Yadav: Congratulations @AamAadmiParty for a well deserved victory in the face of dirty tricks of the regime and a docile EC.
Congratulations to people of Delhi for defeating the most vitriolic campaign of communal hatred in recent times and stopping it from becoming a national template.
Amit Malviya (BJP spokesperson): Hate politics of anti CAA protestors won. But our ideological opposition to politics of Shaheen Bagh is uncompromising, our commitment to civilisational issues like CAA, abrogating 370, abolishing Triple Talaq and facilitating Ram Mandir unwavering... We will emerge stronger...
Raghav Chadha, (AAP's winning candidate from Rajinder Nagar): People of Delhi have proven that Delhi's son Arvind Kejriwal isn't a terrorist but a true patriot. He's working for nation building, the work he's doing is what constitutes patriotism. What BJP is doing, isn't patriotism.
Image: Manish Sisodia, AAP's winning candidate from Patparganj begins a road show.
« Back to LIVE
TOP STORIES