Lead us from lies to truth: Sisodia sure of win
February 11, 2020 08:25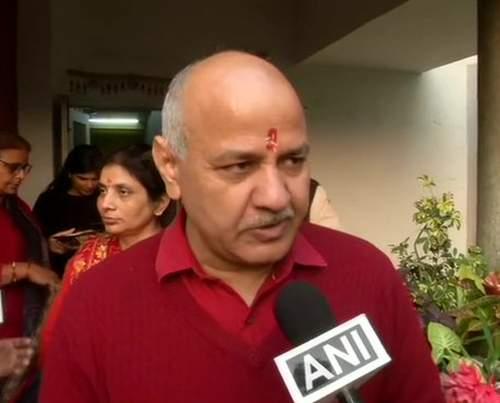 Delhi Deputy Chief Minister and AAP leader Manish Sisodia on Tuesday said that the party is confident of victory as it has worked for the people in the last five years.
"We are confident of a win today because we have worked for people in the last five years," Sisodia told ANI.
Earlier today, Sisodia offered prayers at his residence ahead of counting. "Oh God! Lead us from untruth to truth. Take us to light from the darkness. Take us to the sense of immortality from death," Sisodia tweeted in Hindi.
The election, largely seen as a battle between the AAP and the BJP, was held on Saturday, sealing the fate of 672 candidates -- 593 men and 79 women.
Nearly 24 hours after the polling ended in Delhi, the Election Commission on Sunday announced that the final voter turnout was 62.59 per cent, five per cent less than 2015, and asserted that it followed the laid down process to compile data, after the AAP questioned the "delay".
There were 13,780 polling booths where every vote was accounted for by the presiding officers, which is a time-consuming exercise, Sandeep Saxena, senior deputy election commissioner, said at a press conference on Sunday.
Over 1.47 crore people were eligible to vote in the Delhi polls, including 2.33 lakh in the age group of 18-19. The turnout in the 2015 Assembly polls stood at 67.47 per cent. The AAP had routed rival parties in the last Assembly polls, bagging 67 seats while the BJP was reduced to mere three seats and the Congress had drawn a blank.
« Back to LIVE