Farmers' protest: Shah, Tomar, Nadda meet Rajnath
December 01, 2020 11:40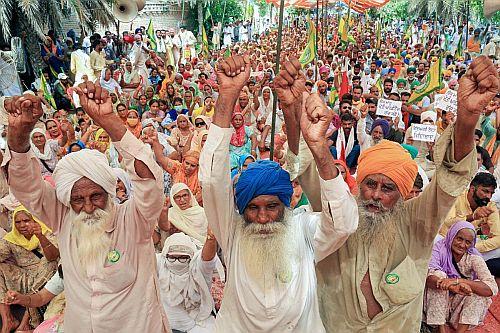 Union Home Minister Amit Shah and Agriculture Minister Narendra Singh Tomar arrive at the residence of BJP President JP Nadda, to hold a meeting over the farmers' protest. Defence Minister Rajnath Singh has also arrived.
This is the second meeting between the top BJP leaders in less than 48 hours amid massive protests against contentious farm laws in and around Delhi.
The Centre has called farmers for talks today, three days ahead of the scheduled date of December 3, as hundreds of farmers trickled in from Punjab at two borders of Delhi.
Making the announcement, Union Agriculture Minister Narendra Tomar cited cold and coronavirus. There was no precondition to the talks which are expected to be held at 3 pm today.
The protesters have threatened to block five entry points to Delhi. Earlier on Monday, Union minister Amit Shah met Tomar -- the second meet within 24 hours -- after protesting farmers rejected the proposal of early talks that hinged on them shifting their protest venue.
« Back to LIVE
TOP STORIES