All MLAs with Ajit in touch with us: Sharad Pawar
November 23, 2019 13:02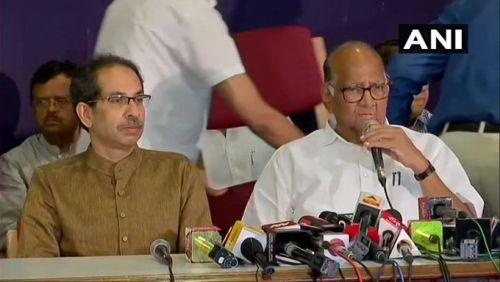 Shiv Sena-NCP address the media at the YB Chavan Centre in Mumbai. This is the first time the two leaders are addressing a joint presser since the decision to form a tripartite government in Maharashtra.
Highlights from Sharad Pawar's address who has Sena chief Uddhav Thackeray seated next to him.
-- "Congress, Shiv Sena and NCP leaders came together to form Government. We had the numbers. We had our official numbers - 44, 56 and 54 MLAs with us who had supported the govt. Several independent were also with us and we had numbers around 170.
"In the morning the situation changed. Ajit Pawar to MLAs to Raj Bhavan. I got to know about the revocation of President's Rule at 6:30 am.
"Ajit Pawar's decision is against the party line and is indiscipline . No NCP leader or worker is in favour of an NCP-BJP government. All the MLAs who are going must know that there is an anti defection law and the possibility of them losing their assembly membership is high.
"All MLAs with Ajit Pawar are in touch with us.
"Parties had their MLAs list signed by all MLAs, a similar list of NCP was with Ajit Pawar, as he is CLP of NCP. I assume that he has submitted the same list. I am not sure about this but I suspect that this may be the case. We will discuss with Governor."
Testimonies from other MLASs: NCP MLA Rajendra Shingane: "Ajit Pawar had called me to discuss something and from there I was taken with other MLAs to Raj Bhavan. Before we could understand oath ceremony was complete. I rushed to Pawar Sahab and told him I am with Sharad Pawar and NCP."
« Back to LIVE