Rafale deal: SC gives clean chit to Modi govt for second time
November 14, 2019 15:44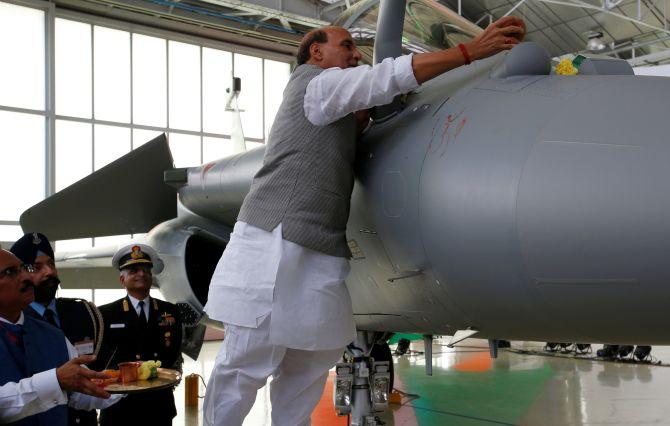 Update on the Rafale review plea verdict in the SC:
The Supreme Court Thursday gave clean chit to the Modi government on the purchase of 36 fully loaded Rafale fighter jets from French company Dassault Aviation, rejecting the plea for registration of an FIR by the CBI for alleged commission of cognisable offence in the deal.
The apex court dismissed the pleas seeking review of the December 14, 2018 verdict in which it had said that there was no occasion to doubt the decision-making process in the procurement of 36 Rafale fighter jets.
The top court was not satisfied with the submission that it decided the disputed questions of facts in the Rs 58,000 crore deal "prematurely" without investigation. The rejection of review petitions is tantamount to the apex court giving the clean chit to the Narendra Modi government for the second time.
"We do not consider this to be a fair submission for the reason that all counsels, including counsel representing the petitioners in this matter addressed elaborate submissions on all the aforesaid three aspects.
"No doubt that there was a prayer made for registration of FIR and further investigation but then once we had examined the three aspects on merits we did not consider it appropriate to issue any directions, as prayed for by the petitioners which automatically covered the direction for registration of FIR, prayed for," said a bench headed by Chief Justice Ranjan Gogoi.
The review applications cannot be entertained unless there is an "error apparent on the face of the record", the apex court said. The bench said it cannot lose sight of the fact that it is dealing with a contract for aircrafts, which was pending before different governments for quite some time and the necessity for those aircrafts has never been in dispute.
"We had concluded that other than the three aspects -- Decision Making Process, Pricing and Offsets -- that too to a limited extent, this Court did not consider it appropriate to embark on a roving and fishing enquiry.
"We were, however, cautious to note that this was in the context of the writ petition filed under Article 32 of the Constitution of India, the jurisdiction invoked," said the bench, also comprising Justices S K Kaul and K M Joseph.
The petition seeking re-examination of the December 14, 2018 verdict was filed by former Union ministers Yashwant Sinha, Arun Shourie and activist lawyer Prashant Bhushan. Other review petitions were filed by lawyer Vineet Dhandha and Aam Aadmi Party lawmaker Sanjay Singh.
« Back to LIVE
TOP STORIES