Sena never discussed rotating CM with me: Fadnavis
November 08, 2019 16:55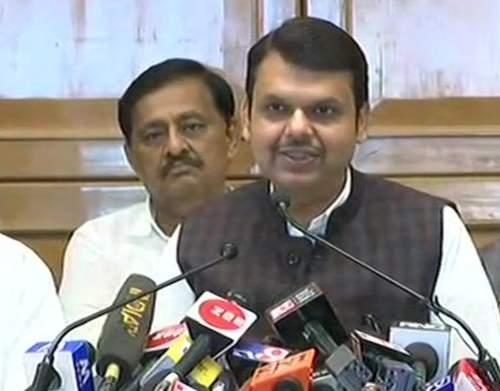 Devendra Fadnavis addressing the media now after stepping down as Maharashtra CM. He says he has submitted his resignation to the governor who has accepted it. He says he has got a chance to serve the state for the last five years and is thankful for the opportunity.
"We stood by affected farmers, we built highways, the metro, the airport and a slew of other projects under my leadership. Because of the work we have done the people have given us the mandate for another five years. Our strike rate in the elections have in fact been 70 per cent.
"IN the very first press conference held by Uddhav Thackeray he had said all options are open to form government. We wonder why he said all options were open even though we have together got the mandate to form government. The 2.5 years demand that the Shiv Sena has been asking for has never been put before me. We have shared a very close relationship but in all this time, but never once have they discussed the 50:50 demand with me.
"I have tried to speak to Uddhav several times, but he has not taken my call. Shiv Sena did not make time to have discussions with me or the BJP but did find time to meet the Congress and NCP. "
"The manner in which Shiv Sena leaders have been speaking in the past few days, they will surely get their TV space, but will not form government.
"The BJP stance has been clear, that we want to form government, not break it.
"We have immense amount of respect for Balasaheb Thackeray and would never dream of disrespecting him. We have made sure we never say anything incorrect against them. The Shiv Sena which has been in a pre-poll alliance with us has spoken against us and against PM Modi has been unacceptable. It has hurt us.
There has been no headway in government formation even a fortnight after Assembly poll results were announced on October 24. The BJP and Shiv Sena are locked in a tussle over the issue of the chief minister's post, resulting in a stalemate in government formation despite the Assembly poll results giving the alliance a combined seat strength of 161, way past the 145 majority mark in the 288-member House. In the polls, the BJP won 105 seats, Shiv Sena-56, NCP-54 and the Congress won 44 seats.
« Back to LIVE
TOP STORIES