No proof of Trump-Russia collusion: Barr
March 25, 2019 08:21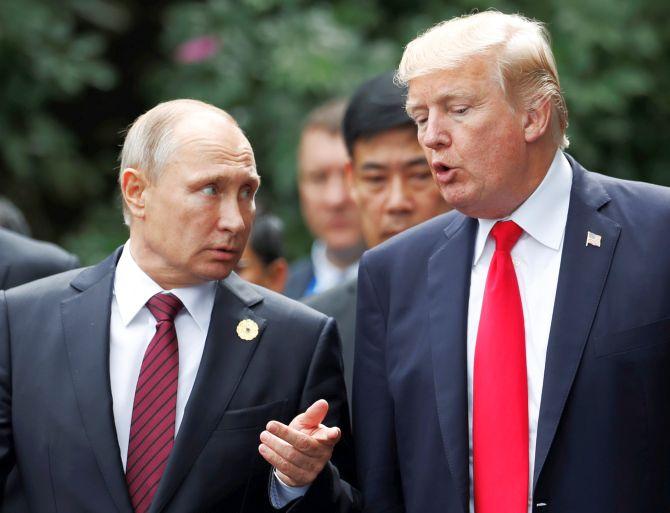 United States Attorney General William Barr has said Special Counsel Robert Mueller did not find proof that Donald Trump or his campaign conspired with Russia to interfere in the 2016 presidential elections, following which the US president claimed "complete and total exoneration".
In his four-page letter to the Congress on Sunday, which was later made public, Brar however said that "while this (Mueller's) report does not conclude that the president committed a crime, it also does not exonerate him" and sets out evidence on "both sides of the question".
The investigation had cast a shadow over the Trump presidency for nearly two years with the Democratic leadership alleging that Russian interference helped him in the 2016 polls.
Barr said that Mueller found no proof of such a conspiracy "despite multiple offers from Russia-affiliated individuals to assist the Trump campaign".
"The special counsel's investigation did not find that the Trump campaign or anyone associated with it conspired or coordinated with Russia in its efforts to influence the 2016 US presidential election," the attorney general said.
Mueller, in his report, "did not draw a conclusion - one way or the other - as to whether the examined conduct constituted obstruction", Barr told the lawmakers.
"For each of the relevant actions investigated, the report sets out evidence on both sides of the question and leaves unresolved what the special counsel views as 'difficult issues' of law and fact concerning whether the president's actions and intent could be viewed as obstruction," Barr said, adding Mueller "ultimately determined not to make a traditional prosecutorial judgment".
In the letter, he also said the Department of Justice has determined that there is not sufficient evidence to establish that Trump committed obstruction of justice.
« Back to LIVE
TOP STORIES