In Bengal rally, PM praises budget, Citizenship Amendment Bill
February 02, 2019 13:14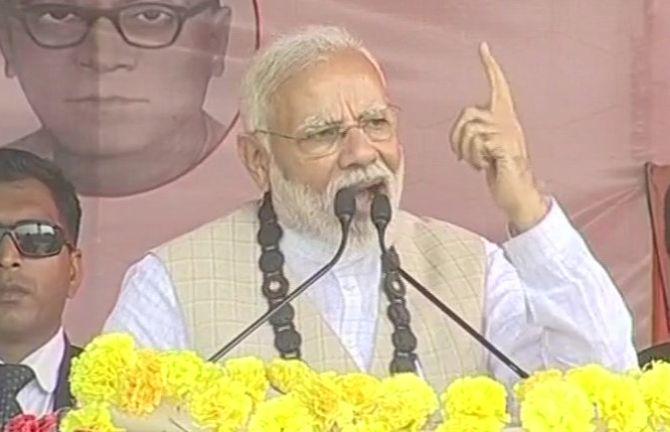 Prime Minister Narendra Modi addressing a public rally in Thakurnagar, West Bengal:
- Seeing this crowd, I have realised why Didi is resorting to violence.
- This is just the beginning, the main budget after Lok Sabha election will have much more for the youth, farmers, and other sections of the society.
- There will be no syndicate tax, no obstacles. The farmers will directly receive the Rs 6,000 meant for them under the new budget. The farmers can use this money to meet the expenditures needed for agriculture.
- Most farmers didn't receive the benefits of loan waivers. Those who did, fell into the debt trap even after that. The Congress bought votes by promising farmer loan waivers. But the situation is entirely different in Madhya Pradesh and Rajasthan.
- Shouldn't those who have had to come back from Afghanistan, Pakistan, Bangladesh be allowed to live respectfully in India? For them, we have introduced the Citizens Amendment Bill. But, the Trinamool Congress is opposing it for no reason.

« Back to LIVE
TOP STORIES