How can 'unwell' Sadhvi contest polls: Omar
April 18, 2019 12:25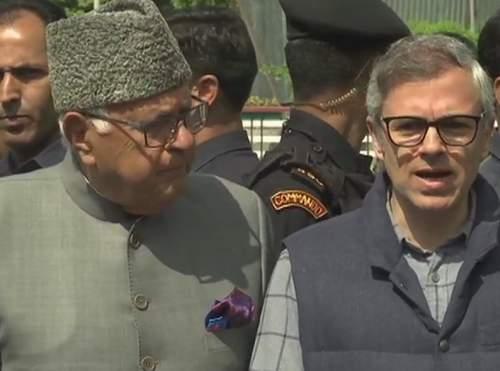 Farooq and Omar Abdullah cast their votes at a polling station in Munshi Bagh Area in Srinagar LS constituency. "Now that LS polls are due to conclude, we can only hope that the Centre together with EC gives the people of J&K an elected govt which is their right."
Earlier today Omar had responded to Mehbooba Mufti's tweet saying she had agreed to form government with the BJP and should have known better. The context was the BJP fielding terror accused Sadhvi Pragya from Bhopal.
Here's Mehbooba's tweet: "Imagine the anger if I'd field a terror accused. Channels would've gone berserk by now trending a mehboobaterrorist hashtag! According to these guys terror has no religion when it comes to saffron fanatics but otherwise all Muslims are terrorists. Guilty until proven innocent."
Omar replied: "These guys" were your allies until they unceremoniously unseated you. "These guys" have been this way before they came to power in 2014 but you only noticed their sins after June 2018.The desire to remain in power blinded you to their crimes until "these guys" forced you to see!"
After voting, Omar brought up Sadhvi Pragya's candidature saying, "BJP have given a ticket (from Bhopal) to a candidate who is not only an accused in a terror case but is also out on bail on health grounds. If her health condition doesn't permit her to be in jail,how does it permit her to contest polls?"
BJP has given the coveted Bhopal ticket against senior Congress leader Digvijaya Singh to Sadhvi Pragya Singh Thakur, who is facing trial in the 2008 Malegaon blast case. The announcement was made hours after Thakur joined the BJP and expressed interest in contesting the Lok Sabha election from Bhopal.
A post-graduate in history, Thakur worked with the RSS' student wing Akhil Bharatiya Vidyarthi Parishad and Durga Vahini, women's wing of the Vishwa Hindu Parishad.
« Back to LIVE
TOP STORIES