Cong ditched me, but my family stands by me: Sujay Vikhe Patil
April 18, 2019 17:03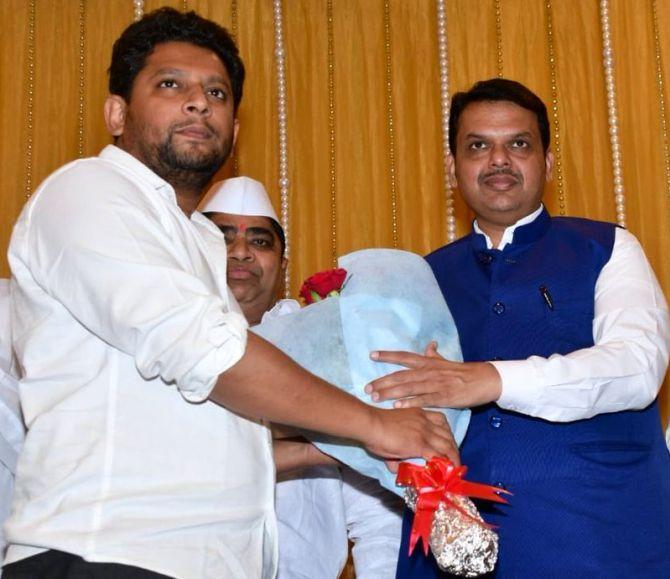 Sujay Vikhe Patil, the son of senior Congress leader Radhakrishna Vikhe Patil, who is contesting the Ahmednagar Lok Sabha seat as a BJP candidate, says although the Congress did not stand by him, his family was supporting him in his first electoral battle.
In an interview to PTI, Sujay slammed the NCP for making the election a personal issue, which prompted him to join the BJP. He said he had worked hard in the Ahmednagar Lok Sabha constituency for three years and deserved to "become an MP".
Sujay joined the saffron party last month. His decision came after the Sharad Pawar-led NCP's refusal to leave aside the Ahmedanagar Lok Sabha seat. A neurosurgeon by profession, Sujay said his decision to join the BJP was not an easy one.
"I have been speaking against the BJP-led government during my public engagements in three years. But the transition was smooth thanks to the NCP, whose leadership indulged in politics of revenge and gave a personal angle to its denial of ticket to me," he said.
"My decision to quit the Congress was because I felt from within that I had the support of the people given my work. For what reason should I stop?" he said.
"There was no looking back for me. There was no going back. It was the Congress's responsibility to get the seat. But the NCP indulged in politics of revenge. There was a personal angle against the family and I had no other option," he said.
NCP chief Sharad Pawar had last month alluded to how he ensured the defeat of Balasaheb Vikhe Patil, father of Radhakrishna Vikhe Patil, (in an election in early 1990s) and that he also remembered the lawsuit the late Congress leader filed against him.
Balasaheb Vikhe Patil had rebelled against the Congress and fought as an independent candidate in the 1991 Lok Sabha polls. Sujay also said an offer was made to him to contest as an NCP candidate.
-- PTI
« Back to LIVE
TOP STORIES