51.6% votes cast in WB in first 4 hours
April 18, 2019 15:43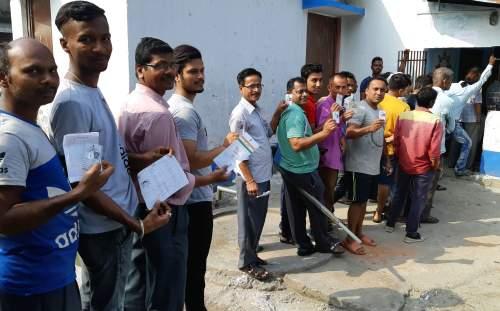 Around 51.6 per cent votes were cast in the first four hours in the three Lok Sabha constituencies of West Bengal, where polling is on under way in the second phase Thursday marred by incidents of violence in some areas, officials said.
An EC official said that around 47.52 per cent polling was recorded in Darjeeling, 54.73 per cent in Jalpaiguri (SC) and 52.54 per cent in Raiganj seat, which reported the maximum incidents of violence from Chopra and Islampur areas.
Special Police Observer Vivek Dubey, however, described the voting as "more or less peaceful" with a few isolated incidents reported from places in the three constituencies. "Small incidents will always occur but there is no big incident," he told reporters.
A reporter and a camera person of a local news channel were allegedly manhandled when they went to cover polling at Kataphulbari in the Raiganj constituency.
Voters of Chopra under the same constituency reportedly put up a road blockade in protest against the absence of central forces at the polling stations, the official said. -- PTI
« Back to LIVE
TOP STORIES