2nd phase: Voter turnout crosses 20%
April 18, 2019 13:42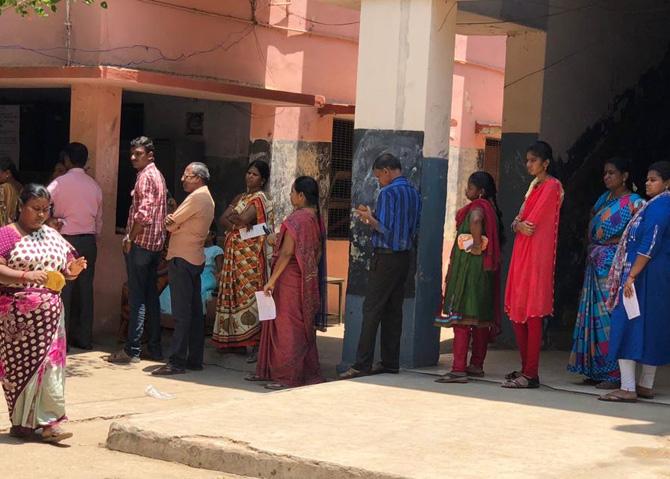 West Bengal
polled 33.52 per cent votes in the first five hours of polling in the second phase of Lok Sabha elections on Thursday.
The north-eastern state of Manipur is also witnessing a large number of voters turning up at booths and has clocked 31.52 per cent vote till noon.
At the same time, 30.53 per cent electorates have used their voting rights in Chhattisgarh and 26.71 per cent in Assam.
Tamil Nadu, Uttar Pradesh and Puducherry have also crossed the 20 per cent mark in the first five hours of polling and have registered 20.46 per cent, 24.37 per cent and 25.09 per cent respectively, turnout till 12 noon.
Other states witnessed a surge in voter turnout after 10 am and clocked over 15 per cent votes on an average.
At 12 noon, voter turnout at Bihar is at 18.93 per cent, Karnataka at 19.98 per cent, Maharashtra at 19.04 per cent and Odisha at 19.12 per cent.
The two parliamentary constituencies of Jammu and Kashmir are also witnessing peaceful voting and as many as 17.78 per cent electorates have polled in the state so far.
The second phase of polling is being held in Assam (5), Bihar (5), Chhattisgarh (3), Jammu and Kashmir (2), Karnataka (14), Maharashtra (10), Manipur (1), Odisha (5), Tamil Nadu (38), Uttar Pradesh (8), West Bengal (3) and Union Territory Puducherry (1). -- ANI
Image: People line up to vote at Madurai. Pic: A Ganesh Nadar.
« Back to LIVE
TOP STORIES