I love Modi, Rahul tells students in Pune
April 05, 2019 13:29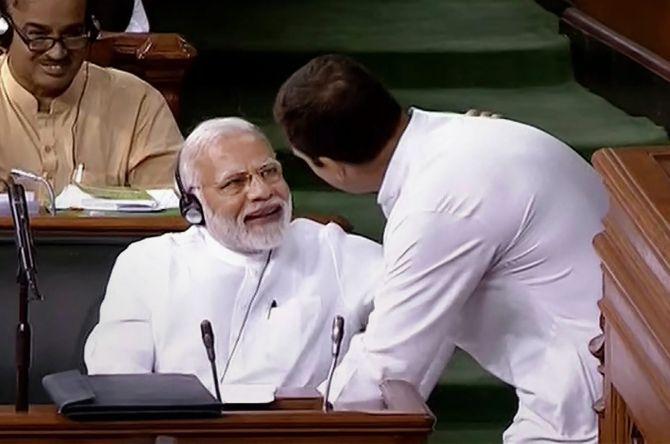 Congress president Rahul Gandhi looks west today with an informal chat with students at a college in Pune. The Congress president was in Wayanad, Kerala, along with his sister Priyanka Gandhi Vadra to file his nomination, yesterday.
In Pune, Rahul was asked that despite personal tragedies (the assassinations of his grandmother and father), where did he get the courage to join the same profession. Rahul replied he got courage through experience. On a lighter note he said that as a kid, he used to hide behind a curtain to scare his grandmother (Indira Gandhi).
Speaking on the Congress poll manifesto, he said it was made after speaking to all stakeholders.
He said around 27,000 jobs are being lost per hour in India. ON the implementation of the Nyay scheme or the minimum income guarantee to the poor, he said money to finance the scheme won't be taken from the middle class and income tax won't be raised.
He also promised to reserve 33 per cent of seats in Parliament, assemblies for women.
ON Priyanka calling him courageous, Rahul said, "I stand up for the weak."
He said the Indian Air Force should take credit for the Balakot air strike.
On being asked who should play a heroine in a biopic on him, he deftly parried the question saying, he was wedded to his work.
And the headliner, Rahul said he loved Modi and that he genuinely has no hatred or anger towards the man.
« Back to LIVE
TOP STORIES