BJP's alliance with PDP was 'milavat sarkar': PM
April 05, 2019 09:36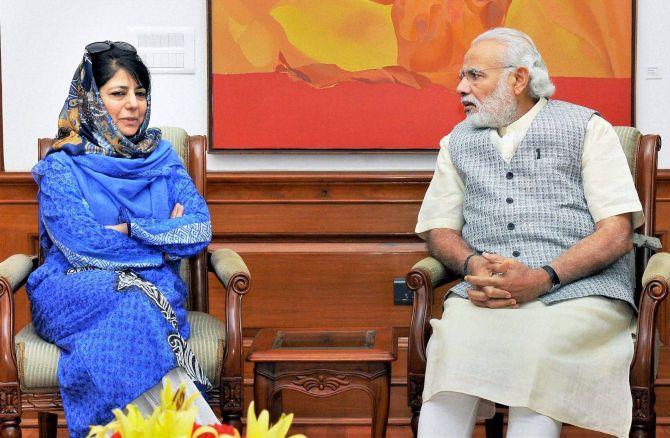 Prime Minister Narendra Modi today said that everyone including him wants Ram Mandir to be built but he is waiting for the Supreme Court's decision.
"It's not just me but everyone wants Ram Mandir to be built. We can only wait for the Supreme Court's decision to find a solution for it," Modi told news channel ABP news in a pre-poll interview.
Criticising Congress's manifesto for the Lok Sabha polls, the PM said that the Congress has insulted country's army in its manifesto and that it is in sync with the language, separatists use for the country.
Talking about Kashmir, Modi termed BJP's alliance with PDP as "milavat wali sarkar."
On Samajwadi Party-Bahujan Samaj Party alliance in Uttar Pradesh, Modi says, "There is a pro-incumbency wave this time. I am part of the public and I will be in support of them. Parties joining together does not prove public's opinion."
Talking about Priyanka Gandhi's entry into politics, Modi said, "In Democracy, anyone can contest from anywhere. I don't fear about who are contesting from where, it doesn't matter to me."
Talking about Nirav Modi and his extradition, the PM said, "The fugitives are being jailed because of measures being taken by the BJP, the fraud has been happening for years but it was caught by us and people like Nirav Modi will be in jail as soon as he's brought to India."
« Back to LIVE
TOP STORIES