Modi rule worse than previous UPA govt: Raj Thackeray
September 10, 2018 23:43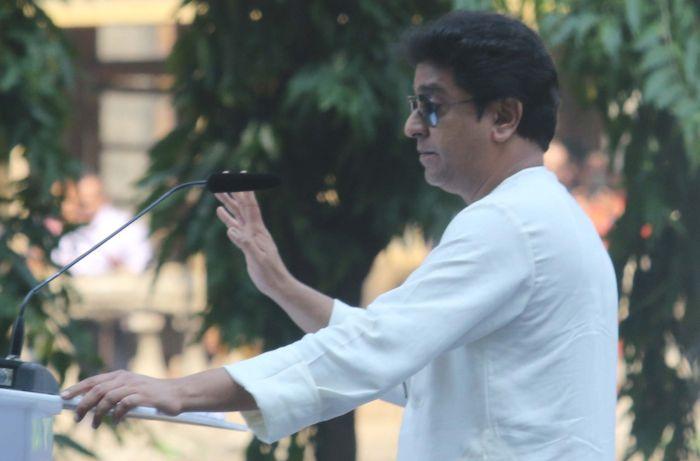 On a day his party supported the Congress' Bharat bandh against fuel price rise, Maharashtra Navnirman Sena chief Raj Thackeray Monday said the current Bharatiya Janata Party dispensation at the Centre is 'worse' than the erstwhile United Progressive Alliance government.
The MNS supported the national shutdown along with other political parties in the state.
Addressing reporters in Mumbai, Thackeray also attacked the Shiv Sena which didn't support the bandh ignoring the Congress' request.
"The BJP dispensation at the Centre is worse than previous Congress government. Within this government the Modi-Shah duo (are worse)," he said.
Thackeray, the estranged cousin of Sena chief Uddhav Thackeray, said the BJP's claim of the 'party with a difference' is false.
"It is the habit of the BJP to spread all kind of lies. The Maharashtra government claims that it has dug 1.20 lakh wells (to overcome water shortage) and made the state free of open defecation. These claims are false," he said.
Thackeray attacked Union Law Minister Ravishankar Prasad over his statement that prices of fuel are not in the hands of the government.
"Ravishankar Prasad says that the prices of fuel cannot be brought down. If that is so then how could the BJP government in Rajastan manage (to bring) them (down). If Prasad were right then why he and his party had been holding agitations (against fuel price hike) before 2014 polls," he asked.
He said the Narendra Modi government is levying heavy taxes on fuel to recover the losses.
Demonetisation exercise has failed and the economy is severely damaged, Thackeray said, adding that the BJP now has the sole agenda to 'fetch donations and win elections'.
In 2016, Prime Minister Narendra Modi had announced scrapping of Rs 500 and Rs 1,000 currency notes with twin objectives of bringing out black money and clamping down on terror financing.
In its report, the RBI recently said that 99 per cent of the currency in circulation at the time of note ban has returned in the banking system.
In a veiled attack on the prime minister, Thackeray said the head of the country should act like a king and not as a merchant.
On Sena's stand to not support Monday's bandh, Thackeray said, "Sena's stand is that if there works are stuck they oppose the BJP and get the work done. They have nothing to do with the suffering of the common people." -- PTI

« Back to LIVE
TOP STORIES