'People of K'taka have accepted development policies over BJP's jumla'
September 03, 2018 23:39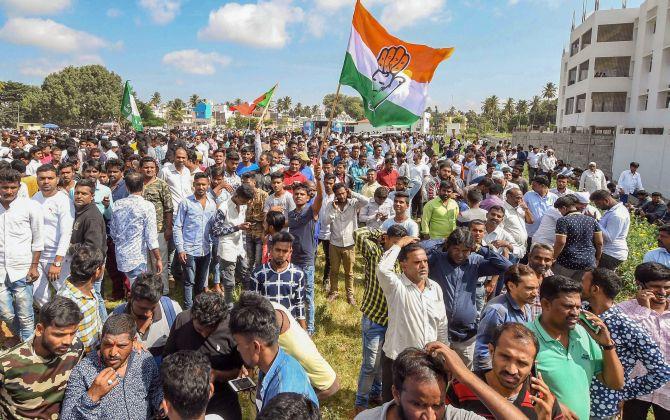 The Congress said on Monday that the people of Karnataka have accepted the development policies of the Congress-Janata Dal-Secular government in the state and have rejected the 'jumlas' (rhetoric) of the BJP, after the party emerged as the single largest outfit in the local body polls.
The JD-S, which is in a coalition government with the Congress in Karnataka, termed the results a defeat of the BJP in the state.
Congress chief spokesperson Randeep Surjewala, while thanking the people of the state, said that they have once again reposed their faith in the Congress.
"People of Karnataka have once again reposed their faith in Congress by making it the No.1 party in Urban Local Bodies. People have accepted development policies of Congress+JDS Govt & have rejected Jumlas of BJP. Many thanks to every @INCKarnataka worker!" he tweeted.
According to the state election commission, the Congress has secured 966 seats and the Bharatiya Janata Party bagged 910 seats in the elections held on Saturday. The Janata Dal-Secular has won 373 seats.
Results for 2,628 seats out of 2,709 have been declared so far.
Both the Congress and the JD-S contested the polls separately despite being partners in the state government, but they have already declared that they would tie up post-election in urban bodies.
Party spokesperson Priyanka Chaturvedi thanked the voters in urban centres for the party's good show, saying the results have demolished the myth that the Congress does not have a base in these places.
She said the Congress has also put up a good show in coastal areas and western regions of Karnataka considered a traditional stronghold of the BJP.
"The results have shown that wherever BJP has failed in its accountability and has resorted to unconstitutional means after the assembly polls, voters have given them a befitting reply," she said. Chaturvedi said all the murmurs about the Congress becoming weak following its alliance with the JD(S) has also been put to rest.
JD-S leader Danish Ali termed the poll result as a defeat of the BJP, noting that the civic elections were held in 104 urban assembly constituencies, out of which the BJP had won 69 in the state elections held in May. -- PTI
« Back to LIVE
TOP STORIES