Pak Army Chief Bajwa meets PM Khan ahead of Pompeo's visit
September 03, 2018 22:19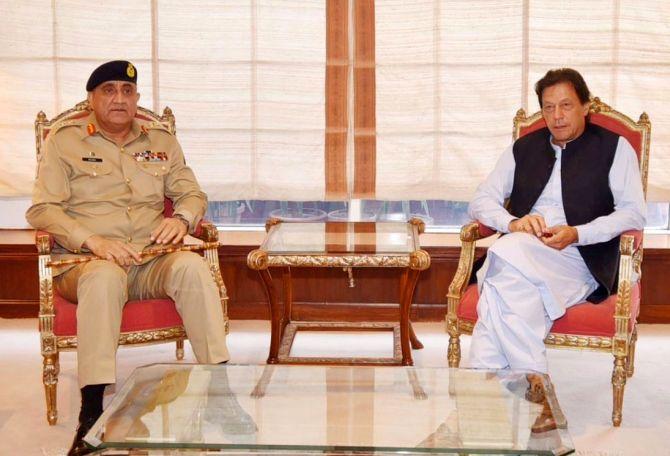 Pakistan Army chief General Qamar Javed Bajwa met Imran Khan on Monday and discussed various security-related issues with the Prime Minister ahead of United States Secretary of State Mike Pompeo's visit to Islamabad on September 5.
Bajwa held his first formal meeting with Prime Minister Khan on August 27 and discussed efforts to ensure long-lasting peace and stability in the region.
"Matters related to security were discussed," the Prime Minister's Office said in a statement about Monday's meeting.
The meeting is significant for its timing due to Pompeo's scheduled visit to the country as the US Secretary of State is expected to demand support from Pakistan to bring Taliban to the negotiating table.
US-Pakistan tensions have flared before Pompeo's trip with Islamabad dismissing as "incorrect" reports the US has cancelled USD 300 million in military aid to the country, saying Washington owed the money to Islamabad for expenses incurred on fighting terrorism.
Pakistan Foreign Minister Shah Mehmood Qureshi made the remarks a day after the Pentagon disclosed it decided to scrap the funds because Pakistan was not doing enough against terrorist groups inside its borders.
Qureshi confirmed his American counterpart will visit Pakistan and downplayed suggestions the funding row has fuelled mutual tensions.
This will be Washington's first high-level dialogue with Islamabad since Khan was sworn-in as the 22nd premier of Pakistan on August 18.
Khan, the chairman of the Pakistan Tehreek-e-Insaf won the 25 July general election amidst the perception that the Pakistan Army, a major player in Pakistan's politics, has thrown its weight behind his party.
Bajwa had congratulated Khan on assuming the top ministerial job during their first meeting at the Prime Minister's Office.
The powerful military has ruled coup-prone Pakistan for nearly half of the country's history since independence in 1947. -- PTI
Photograph: Kind courtesy Govt of Pakistan on Twitter
« Back to LIVE
TOP STORIES