You're like Diwali lamps spreading light: Modi to Indians in Japan
October 29, 2018 09:02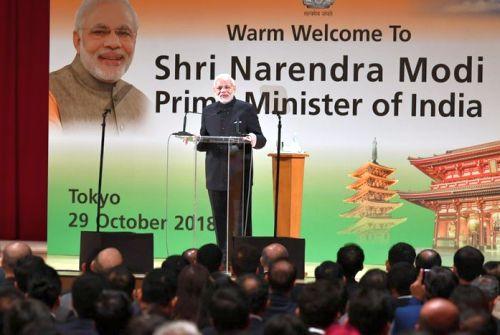 Prime Minister Narendra Modi congratulated the Indian community in Japan for taking 'brand India' to new heights by introducing cricket, Indian food and culture to the island nation, which has long worked with India in several sectors such as infrastructure, auto and technology.
"Just as how lamps light up the dark during Diwali wherever you are, you are spreading the light of India to every corner of the world and Japan and making the country proud. My best wishes are with you," PM Modi said after he was greeted by a group of Indians in Tokyo on the last day of his two-day visit.
PM Modi and his Japanese counterpart Shinzo Abe came to Tokyo in a train on Sunday after spending eight hours together in the picturesque Yamanashi prefecture, where they held informal talks and visited a factory.
"India is going through a massive transformative phase today. The world is appreciating India for its efforts towards services towards humanity. The policies being made in India, the work being done towards public welfare, for these the nation is being felicitated today," PM Modi told the Indian community in Tokyo this morning.
During his speech in the island nation known for its high-technology products, PM Modi cited his government's "Make in India" initiative to boost manufacturing in India, especially India's progress in mobile phone manufacturing.
"Broadband connectivity is reaching villages, over 100 crore mobile phones are active in India. One GB is cheaper than a small bottle of cold drink. Data is becoming a tool for service-delivery," the prime minister said.
« Back to LIVE