Will wait for SC verdict, say litigants in Ayodhya case
October 29, 2018 19:01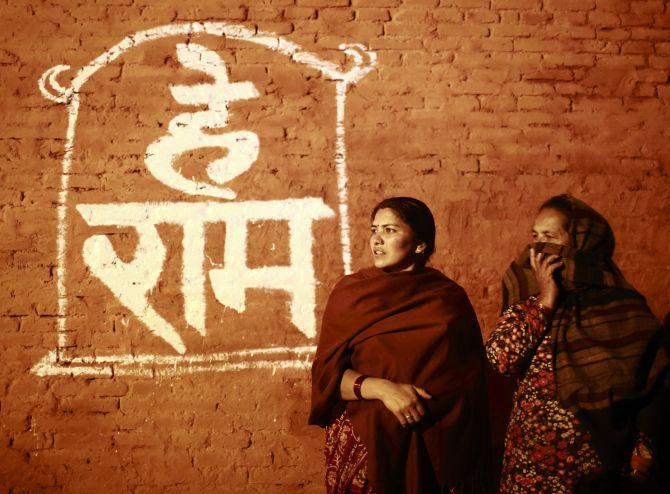 Litigants in the Ram Janmabhoomi/Babri mosque title suit said on Monday they would wait for the Supreme Court verdict in the case, after the apex court said the schedule of hearing will be decided in the first week of January next year.
There were, however, differing views on the demand by Vishwa Hindu Parishad (VHP) and other Hindu outfits that the government bring in a law to build Ram temple, with Iqbal Ansari of Sunni Waqf Board terming it as a 'political gimmick' ahead of the elections.
Mahant Dinendra Das, representative of Nirmohi Akhara which is one of the main parties from the Hindu side, said that 'the court will follow its procedure and we should wait for the verdict'.
He claimed that bringing a law to build Ram temple 'will not be a good decision of the government because the title of the land belongs to Nirmohi Akhara'.
"We will get back our land through court verdict only," he said.
Another litigant from the Hindu side 'Ram Lalla Virajman ', represented by Triloki Nath Pandey, said there was little anyone could do after the court put off the matter to January.
"We will wait for the court's verdict as we have been waiting for more than hundred years," he said.
Pandey, however, supported the demand for a law to construct the Ram Temple in Ayodhya.
"Definitely, the land will be allotted to us and Ram Janmabhoomi Nyas will construct the Ram temple," he said.
Reacting to the development, Iqbal Ansari of Sunni Waqf Board said, "We will wait for the court verdict as we have have full faith in the Supreme Court."
"The proposal for making a law for Ram temple is a political gimmick as when the elections approach, a political party always raises the issue," he said.
"When the matter is before the court, let the court decide. Interference of the government in matters that are before the court will not be good for the country, especially in Ayodhya issue," he said. -- PTI

« Back to LIVE