No conflict with judiciary: BJP on Shah's Sabarimala verdict remark
October 29, 2018 20:52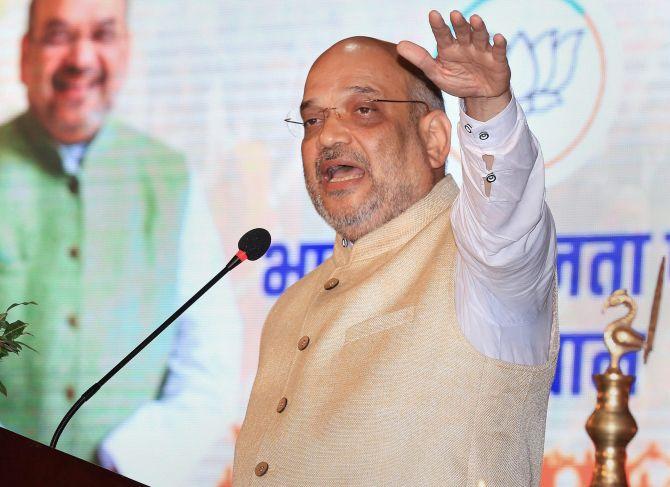 The Bharatiya Janata Party on Monday said party chief Amit Shah's remarks that courts should desist from pronouncing "impracticable" verdicts, against the backdrop of the Supreme Court ruling on Sabarimala, should not be misconstrued as a "conflict with the judiciary".
Addressing a press conference in Indore, BJP's national spokesperson Sambit Patra said the saffron party was only raising the "issue of faith" with "utmost humbleness".
A recent verdict of the apex court lifting the age restrictions on entry of women to the Kerala-based hill shrine of Lord Ayyappa, who is believed to be a celibate as per traditions, has led to massive protests by the devotees.
The BJP and its ideological mentor Rashtriya Swayamsevak Sangh (RSS) have extended their support to the devotees who are opposing the entry of women of menstruating age to the abode of the Lord.
Shah had Saturday said that courts should desist from pronouncing verdicts that cannot be implemented, drawing flak from Kerala Chief Minister Pinarayi Vijayan, the Congress and the Bahujan Samaj Party.
Responding to a query on the Sabarimala row and Shah's remarks, Patra said, "There is no confrontation (with the judiciary on the issue). The BJP only believes that faith should be respected."
"Be it the Sabarimala temple or 'Shivlinga' they are the centres of our faith. We are standing by our faith with great humility and love," he added.
Responding to a query on whether Narendra Modi government would bring in a law to construct a Ram temple at the disputed site in Ayodhya, Patra said the government wanted to construct the temple as per Constitutional norms.
"The legal case related to the Ram temple is sub-judice. A big section of the country's polity is trying to delay the trial of this case. The BJP wants to construct the temple of Lord Ram as per Constitution," he said.
The issue of Ram temple came to the centre-stage after RSS chief Mohan Bhagwat recently appealed to the government to bring in a law to facilitate the construction of the temple in Ayodhya, which he said was necessary for "self esteem". -- PTI
« Back to LIVE