PM hoists tricolour at Red Fort on 75th anniversary of Azad Hind govt
October 21, 2018 10:56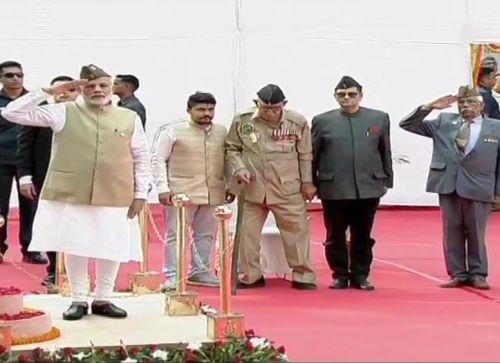 Prime Minister Narendra Modi today hoisted the national flag at the Red Fort to mark the 75th anniversary of the 'Azad Hind government' headed by Subhas Chandra Bose.
Traditionally, the prime minister hoists the national flag at the Red Fort on Independence Day.
Modi said so many people have scarified their lives for the independence and now it is our duty to maintain it.
"We have reached Swaraj after lakhs of sacrifices. It is our responsibility to maintain this Swaraj with Suraaj," he said.
The PM further said, "Netaji had promised an India where everyone has equal rights and equal opportunities. He had promised a prosperous nation which was proud of its traditions, development in all areas. He had promised to uproot divide and rule. Even after so many years those dreams remain unfulfilled."
Modi also talked about his government's achievements in last four years.
"In last four years, several measures were taken to strengthen the defence. Best technologies were brought to the defence. This government has strength to make big and tough decisions. Be it surgical strike or making the files of Netaji public, decision was taken by our government," he said.
« Back to LIVE
TOP STORIES