Feel proud to come to Sabarimala: Woman journalist
October 19, 2018 13:27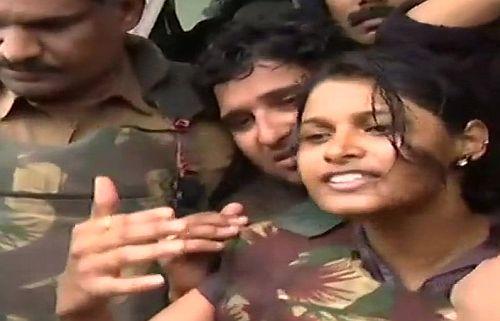 Journalist Kavitha Jakkal (in picture) and activist Rehana Fatima returned to Pamba under police protection. Kavitha thanked everyone for supporting them. "We are feeling proud to come here. You have seen what dangerous situation we faced," she said commenting on their decision to turn back.


Woman activist Rehana Fatima who also attempted to enter the shrine and was informed that her house in Kochi was vandalised by unknown miscreants said, "I don't know what happened to my children. My life is also in danger. But they (police) have said that they will provide protection. That is why I am going back."


She also added that people (without specifying who) and not devotees want to disrupt peace at Sabarimala and did not allow them to enter.


"I want to know what was the reason. Tell me, in which way one needs to be a devotee. You tell me that first and then I will tell you if I'm a devotee or not," she said to remarks that she was an activist and not a devotee.


In fact, Congress leader Ramesh Chennithala, said that they had met the governor and explained the current situation.

"Not only Hindus but people from all religions are going there. Everyone is worried. The woman activist (Rehana Fatima) was given a police uniform. It was wrong.


"Sabarimala is not a tourist spot, only devotees go there. Right now what Kerala police is doing is wrong. Had there been our government we would've handled the situation better. We would've talked to devotees, there would've been no violence."

« Back to LIVE
TOP STORIES