Amritsar train tragedy: Railways issues helpline numbers
October 19, 2018 22:29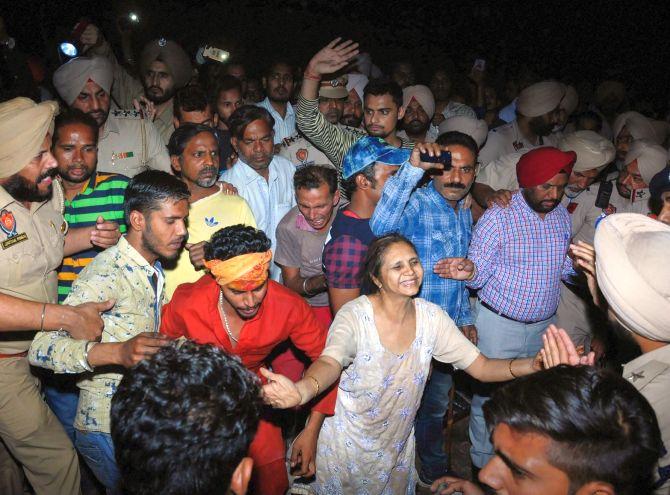 The railways has issued helpline numbers for the kin of those injured and dead in Amritsar train accident on Friday, officials said.
At least 52 people were killed and 72 others after a crowd of Dussehra revellers that had spilled onto railway tracks while watching burning of Ravana effigy was run over by a train near Amritsar, they said.
These numbers can be used reach for information on the incident -- 01832223171 and 01832564485.
Telephone numbers at Manawala station are 0183-2440024, 0183-2402927 and Ferozpur's helpline number is 01632-1072.
MoS Manoj Sinha, Chairman Railway Board Ashwani Lohani, GM/NR Vishwesh Chaubey will take off from Delhi by an Air Force plane at 11pm.
Railway Minister Piyush Goyal, who is in the US, is cancelling all his engagements there to rush back. He tweeted, "Railways is conducting immediate relief and rescue operations."
Railway officials termed the dead as "trespassers" and said there was no decision so far on any compensation from the national transporter as they were not passengers.
Punjab Chief Minister Amarinder Singh announced Rs 5 lakh compensation for the kin of each deceased and free treatment for the injured.
The death toll, according to local officials could reach 100.
The accident comes days after five people died and around 35 injured after five coaches and the engine of the New Farakka Express derailed near Rae Bareli in Uttar Pradesh on October 12. -- PTI
Image: Relatives mourn at the site of a train accident at Joda Phatak in Amritsar. Photograph: PTI Photo
« Back to LIVE
TOP STORIES