RSS, BJP are totalitarians: Owaisi
October 18, 2018 17:12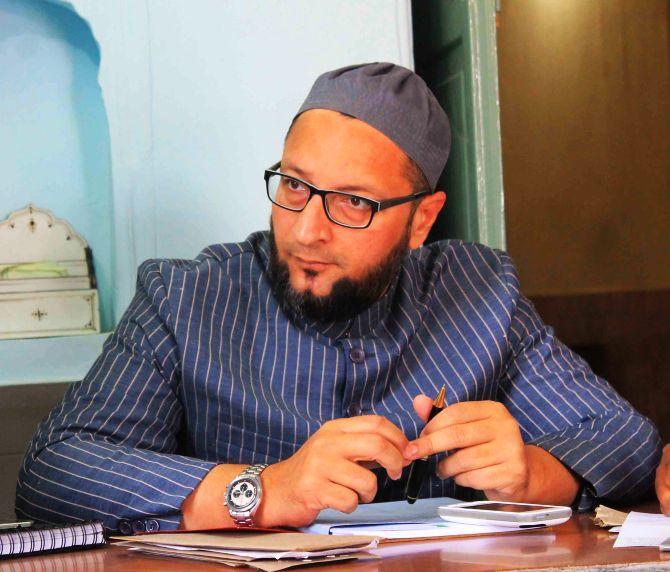 All India Majlis-e-Ittehadul Muslimeen president Asaduddin Owaisi on Thursday said that Rashtriya Swayamsevak Sangh chief Mohan Bhagwat calling on the Bharatiya Janata Party-led central government to pass a law on Ram Temple construction in Ayodhya, is a clear example of a nation being converted into totalitarianism.
Owaisi's remarks come following Bhagwat's Vijayadashami speech at the RSS headquarters in Nagpur. Bhagwat in his speech said, "The government should clear the path for construction of the grand temple through appropriate and requisite law."
Owaisi said: "Do it. Who is stopping the RSS and their government? It is a clear example of when a nation is converted into totalitarianism. The RSS and the BJP believe in totalitarianism. They don't believe in pluralism or rule of law. So do it."
"The RSS chief has shown his ignorance of law, because in the Ismail Faruqui judgement, the Supreme Court has clearly said that you cannot make a law for a particular religion, it goes against the basic structure of the Constitution, and it will be a violation of Article 14 of the Constitution (right to equality). But you want to do it, you do it."
Responding to Bhagwat saying that certain elements of the society are disrupting the peace, Owaisi said, "Well, that is what the fascists and people who believe in totalitarianism keep on harping about. They believe they are a paragon of virtue and the rest are anti-nationals. This is not new; we have been seeing this since Nazis in Germany, (Benito) Mussolini was in power in Italy."
-- ANI
« Back to LIVE
TOP STORIES