Kerala CM blames RSS for Sabarimala violence; BJP demands probe
October 18, 2018 14:18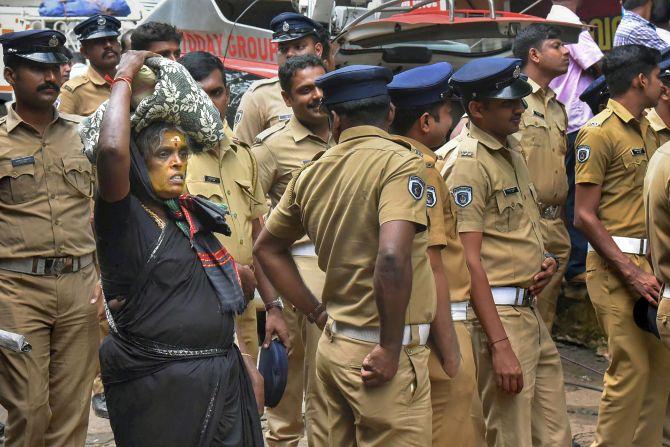 A day after devotees opposing entry of women into Sabarimala Temple clashed with the police at Nilackal, the Kerala government charged that the RSS was trying to "destroy" the Lord Ayyappa shrine by "unleashing terror".
The BJP, however, countered the allegation, saying the CPI(M)-led LDF government was trying to tarnish the Ayyappa Temple and was responsible for creating tension at the holy shrine.
Blocking devotees from proceeding to the Ayyappa Temple and forcing them to return by creating terror were part of the RSS-Sangh Parivar's move to "destroy" Sabarimala, Chief Minister Pinarayi Vijayan charged in a Facebook post.
The chief minister claimed that right wing forces had always been disturbed due to the unique nature of Sabarimala temple where devotees, irrespective of caste, creed and religion, offer worship.
The saffron groups' attempt was to destroy this basic quality of the hill shrine and the present developments could be seen as part of that move.
"RSS is trying to destroy the Lord Ayyappa shrine by unleashing terror,"the Chief Minister alleged.
Making it clear that the government would not allow the temple to be turned into a "riot zone", he said any attempt to check people from trekking the holy hills would be dealt with.
Reacting to developments at Sabarimala, BJP state president P S Sreedharan Pillai demanded a judicial probe into the circumstances that led to the violence and lathicharge by police against protesters at Nilackal, the base camp.
Pillai said the police had "deliberately" triggered provocation and turned Sabarimala into a "war zone".
He also alleged that police personnel had destroyed the make-shift shelter put by the devotees to conduct their prayer
meeting protest at Nilackal.
"We also saw on TV, the policemen threw away the framed pictures of Lord Ayyappa," Pillai charged and questioned the police action of arresting and evicting even senior members of tantri family and Pandalam Palace who were conducting a peaceful protest at Pamba.
He said the party would continue its support to the devotees and protest at Nilackal till October 22, the day when the Ayyappa shrine would be closed.
-- PTI
« Back to LIVE
TOP STORIES