Court to hear Akbar's defamation case against journalist today
October 18, 2018 08:33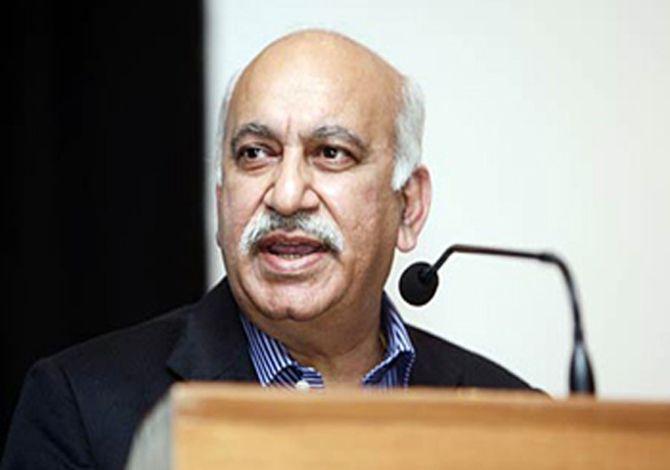 M J Akbar's criminal defamation complaint against journalist Priya Ramani, who has accused him of sexual misconduct around 20 years ago, is scheduled to come up for hearing on Thursday in the Patiala House court in New Delhi.
Akbar resigned as minister of state for external affairs on Wednesday following a spate of accusations of sexual misconduct levelled by several women.
His lawyer Sandeep Kapur said the legal battle would commence from Thursday and the veteran journalist-turned politician would press for the prosecution of scribe Priya Ramani against whom he filed the defamation complaint when he was the minister.
Kapur of law firm Karanjawala and Co said the private criminal defamation case would come up for hearing before Additional Chief Metropolitan Magistrate Samar Vishal.
There has been mounting pressure on Akbar by political opponents, alleged victims and #MeToo activists to resign.
He said since he decided to move the court to "seek justice" in "personal capacity", he decided to step down to challenge "false accusations" also in "personal capacity".
"Since I have decided to seek justice in a court of law in my personal capacity, I deem it appropriate to step down from office and challenge false accusations levied against me, also in a personal capacity. I have, therefore, tendered my resignation from the office of Minister of State for External Affairs. I am deeply grateful to Prime Minister Shri Narendra Modi and to the External Affairs Minister Smt Sushma Swaraj for the opportunity they gave me to serve my country," Akbar said in his letter.
ACMM Vishal's court is the special designated court of the national capital to hear cases pertaining to politicians and has been hearing various high-profile matters including the National Herald, Sunanda Pushkar's death, matters against Delhi Chief Minister Arvind Kejriwal, cross-defamation cases involving Union minister Smriti Irani and Congress leader Sanjay Nirupam.
« Back to LIVE
TOP STORIES