Saudi King, Erdogan discuss Khashoggi's disappearance
October 15, 2018 08:42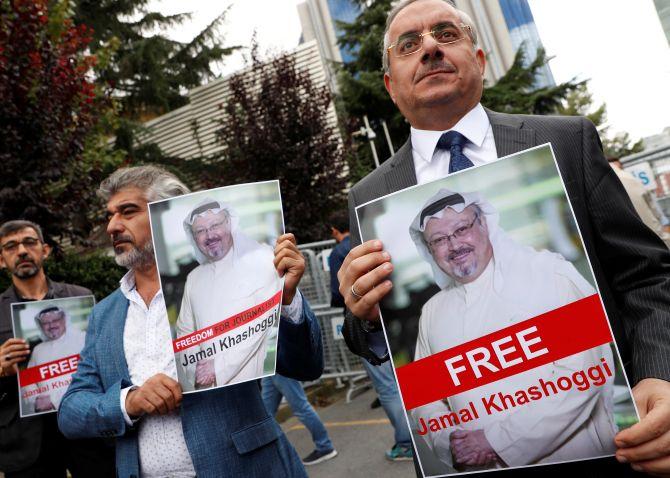 Turkish President Recep Tayyip Erdogan and Saudi Arabia's King Salman bin Abdulaziz discussed Saudi journalist Jamal Khashoggi's disappearance over a phone call on Sunday night.
Khashoggi has been missing ever since cameras captured him going inside the Saudi consulate in Istanbul on October 2.
Hatice Cengiz, his fiancee, who was waiting outside the consul, had stated that she did not see him re-emerging from the building.
Both the leaders emphasised on the need for a joint working group for investigations.
The Saudi King also thanked the Turkish President for accepting a Saudi proposal to create the joint group, according to Al Jazeera.Abdulaziz further highlighted that no one could undermine Saudi Arabia and Turkey's relationship.
Saudi Arabia had earlier rejected all allegations levied on the nation due to Khashoggi's disappearance and also threatened to retaliate 'with greater action' against any sanctions put on the nation.
They released a statement earlier on Sunday which read, "The Kingdom affirms its total rejection of any threats and attempts to undermine it, whether by threatening to impose economic sanctions, using political pressures, or repeating false accusations that will not undermine the Kingdom and its staunch positions and Arab, Islamic and international status, the outcome of these weak endeavors, like their predecessors, is a demise."
"The Kingdom also affirms that if it receives any action, it will respond with greater action, and that the Kingdom's economy has an influential and vital role in the global economy is affected only by the impact of the global economy," the statement further added.
There is mounting international pressure on the Kingdom of Saudi Arabia to explain Khashoggi's disappearance.
Earlier, United States President Donald Trump had threatened of 'severe punishment' for the Gulf country if there has indeed been any Saudi hand in the scribe's disappearance.
The United Kingdom's Foreign Minister Jeremy Hunt had also said that they would have to 'think about the appropriate way to react' if Saudi Arabia is found guilty in Khashoggi's disappearance.
Turkish officials had previously claimed that their Saudi counterparts carried out Khashoggi's kidnapping and murder.
They had alleged that a 15-man team flew from Riyadh to Istanbul on the day the senior journalist visited the consulate and carried out the alleged murder of the journalist. -- ANI
IMAGE: Human rights activists and friends of Saudi journalist Jamal Khashoggi hold his pictures during a protest outside the Saudi Consulate in Istanbul. Photograph: Murad Sezer/Reuters

« Back to LIVE