If you are not in suit-boot you are not PM's bhai: Rahul
October 15, 2018 18:14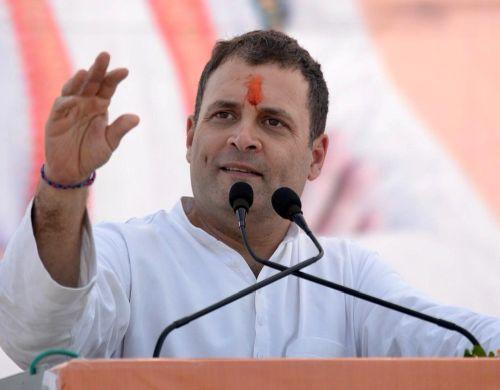 Repeating his 'suit-boot' jibe at Narendra Modi, Congress chief Rahul Gandhi on Monday alleged there is no place for the poor in the prime minister's heart, adding, "If you are not in suit-boot you are not PM's bhai".
Gandhi also accused Modi of remaining silent when Dalits, women, minorities, tribals and the poor are attacked in the country and alleged that he and Uttar Pradesh Chief Minister Yogi Adityanath were trying to save a rape accused BJP MLA in the northern state.
On a campaign trail in poll-bound Madhya Pradesh, the Congress president again took on Modi over the controversial Rafale jet deal and alleged he had close proximity with businessmen like Nirav Modi, Mehul Choksi and Anil Ambani.
He also said that loans of farmers will be waived in 10 days if the Congress comes to power in the state.
Gandhi earlier began his two-day tour of the state by offering prayers at the famous Maa Peetambara Peeth temple complex in Datia in Gwalior division.
Taking a swipe at BJP's assurance on women's safety, Gandhi, without naming anyone, said there is a "need to save our daughters from BJP MLAs". Kuldeep Singh Sengar, a BJP MLA from UP, is accused of raping a minor girl in Unnao district.
Noting that the prime minister had said before the 2014 polls he wanted to be a "chowkidar" (guard), Gandhi alleged only 15-20 industrialists of the country benefitted under his government, instead of farmers.
"The Prime Minister addresses Mehul Choksi as Mehul bhai (brother), Nirav Modi as Nirav bhai and Anil Ambani as Anil bhai but he never addresses a labourer, a poor and a farmer as bhai or hugs them. There is no place for them in his heart.If you are not in suit-boot you are not PM's bhai," Gandhi said addressing a public gathering in Datia.
"The prime minister let jeweller Nirav Modi escape with Rs 35,000 crore, which is equal to the entire budget of the Mahatma Gandhi National Rural Employment Guarantee Act (MGNREGA)," Gandhi further charged.
He was referring to the PNB banking fraud allegedly involving Nirav Modi, his uncle Mehul Choksi and others.
Taking a dig at the ruling party over the issue of women's safety, Gandhi said, "The BJP gave a good slogan 'Beti Bachao-Beti Padhao' (save and educate daughters).
"But in Uttar Pradesh, Chief Minister Yogi Adityanath and Prime Minister Narendra Modi were trying to save a rape accused BJP MLA. The PM didn't speak a word," he alleged.
"There is a need now to save our daughters from BJP MLAs." -- PTI
« Back to LIVE