Amid protests outside his house, Akbar reaches MEA
October 15, 2018 14:29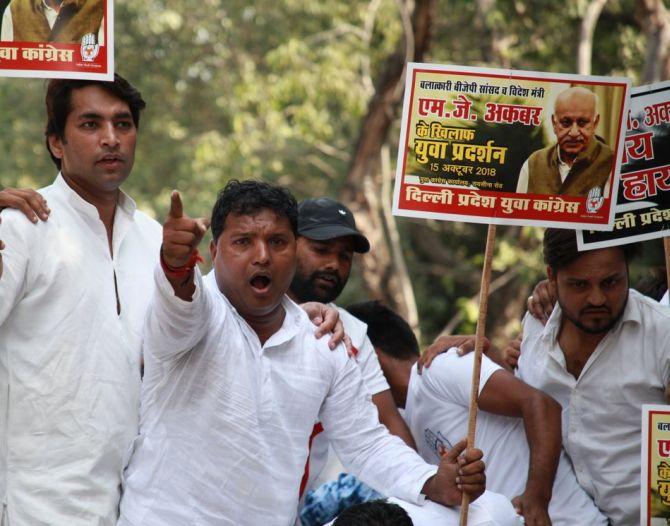 The Youth Congress activists on Monday staged a protest near the residence of Union minister M J Akbar, demanding his 'immediate resignation' over allegations of sexual misconduct by several female journalists.
The activists gathered at Teen Murti roundabout raised slogans against the junior foreign minister and tried to march towards his residence when they were stopped by the police.
A few protesters who tried to march ahead towards police barricades were removed.
'The Indian Youth Congress (IYC) is protesting against M J Akbar for his sexual misconduct and harassment of journalists.
'As many as 10 female journalists have come forward and detailed sexual harassment by him,' said a statement of the outfit.
The ruling coalition of National Democratic Alliance led by the Bharatiya Janata Party which had made tall promises of 'Beti Bachao, Beti Padhao' cannot and must not be allowed to shield a man of 'questionable conduct', it said.
Earlier, Akbar arrived at the Ministry of External Affairs in South block.

He had yesterday issued a statement denying allegations of sexual harassment against him and said had that he would take legal action. -- PTI, ANI

« Back to LIVE