Now, CPI allies with Ajit Jogi's outfit for Chhattisgarh polls
October 14, 2018 19:54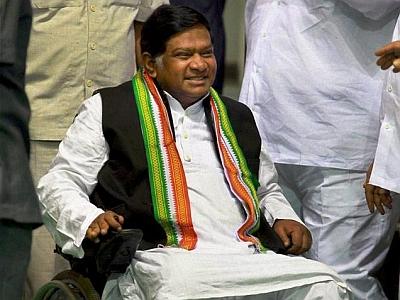 The Communist Party of India on Sunday announced that it had entered into an alliance with Ajit Jogi's outfit Janata Congress Chhattisgarh (J) for the assembly polls in the state.
The Chhattisgarh assembly polls will be held in two phases -- on November 12 and 20 -- and the counting of votes will be taken up on December 11.
Earlier, Mayawati-led Bahujan Samaj Party had forged an alliance with Jogi's outfit, as part of which the BSP will fight 35 seats while the Janata Congress Chhattisgarh (J) will contest the remaining 55 seats in the 90-member assembly.
CPI state secretary RDCP Rao and Jogi announced the alliance between the two parties Sunday at a press conference.
Jogi said the addition of CPI to the JCC(J)-BSP alliance had made it a "mahagatbandhan" (grand alliance) and added strength to its poll prospects in the Bastar region and in places with a high number of labourers.
The aim of the alliance is to form a government which will work in the interest of Dalits, Adivasis, the poor, villagers, farmers, labourers and minorities and take decisions for the welfare of Chhattisgarh's people, Rao said.
He alleged that over 50 per cent of the state's population continued to live below the poverty line despite 15 years of BJP rule.
Under the agreement, the JCC (J)-BSP will support candidates of the CPI in Konta and Dantewada while the Left party and affiliated labour unions will campaign for the former's candidates in Chitrakot and Bijapur in Bastar division and industrial areas like Korba and Bhilai Nagar, Rao said.
In the 2013 assembly polls, the CPI had garnered just 0.66 per cent of the votes cast and had lost all 13 seats it had contested.
Rao, however, said that his party had a significant presence in the Bastar region, particularly in Dantewada and Konta seats, from where it had fielded its popular leaders Nandaram Sodhi and Manish Kunjam respectively for the upcoming polls.
While Kunjam has been a two-time MLA from Sukma, Sori has won the Dantewada seat once in the past.
Jogi will be campaigning for the candidates of the grand alliance in Bastar region between October 20 and 24 during which he will address rallies in Konta and Dantewada on October 23.
The development is being seen as a blow to the opposition Congress which was planning to forge a grand alliance in Chhattisgrah to unseat the ruling BJP. -- PTI
« Back to LIVE
TOP STORIES