Rahul targets Anil Ambani again to slime PM Modi
October 07, 2018 10:39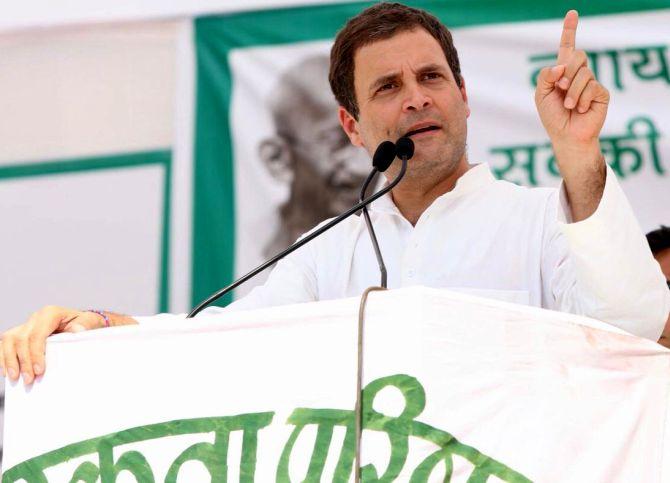 Congress president Rahul Gandhi has called Anil Ambani Prime Minister Narendra Modi's BFF, urban slang abbreviation for Best Friend Forever.
In a tweet targeting Anil Ambani, Rahul Gandhi said, "When your BFF is the PM, you can get the 1,30,000 Cr. Rafale deal, even without relevant experience. But wait. There's more! Apparently, 400,000 JK Govt staff will also be arm twisted into buying health insurance ONLY from your company!"
Based on a report published on a website, Rahul Gandhi has accused the Narendra Modi government in Delhi of favouring Anil Ambani's Reliance ADA.
The report claimed that the Jammu and Kashmir government has chosen Reliance General Insurance Company, part of Reliance ADA Group, for handling the Group Medical Health Insurance Scheme For Employees, Pensioners and Journalists launched on September 20 this year.
The scheme fixes Rs 8,777 annual premium for state government employees and Rs 22,229 annual premium for pensioners.The scheme provides an annual insurance cover of Rs 6 lakh for a family of five.
The Congress believes this favours the beleaguered businessman's ailing businesses.
Rahul Gandhi just added this to the already raging controversy about the Rafale deal. The fighter jet deal will be an issue in the upcoming state elections in Rajasthan, Madhya Pradesh, Telangana, Chhattisgarh and Mizoram.
The Congress move to rake up the Jammu and Kashmir insurance scheme to accuse the central government of cronyism is another move to taint the Teflon-coated image of Narendra Modi.
« Back to LIVE
TOP STORIES