Does Melania Trump ever tell the US president to put away his phone? 'Yes!'
October 07, 2018 10:29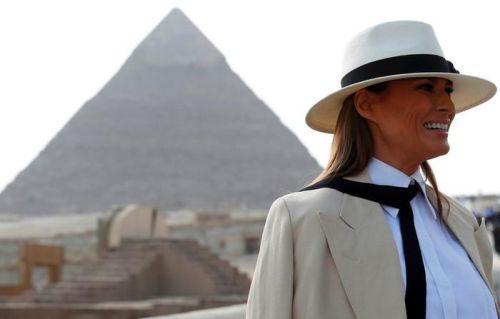 No one can say, US First Lady, Melania Trump doesnt understand the power of an image.
Standing in front of one of the best known but most enigmatic monuments of the ancient world, the Great Sphinx, Trump one of the most mysterious first ladies in modern times agreed to take questions from a group of journalists.
When asked about US President Donald Trumps claim, made in response to the accusations of sexual assault against Brett Kavanaugh, that it was a very scary time for men, Trump walked a line between saying victims needed to be heard and supporting Kavanaugh, whom she called highly qualified to join the Supreme Court.
Im glad Dr Ford was heard, Trump said of Christine Blasey Ford, one of the accusers. Im glad Judge Kavanaugh was heard, that the FBI investigation was done.
She added: We need to help all of the victims no matter what kind of abuse they had. I am against any kind of abuse or violence.
When asked if she believed Blasey, she seemed to deflect the question: I will move on that.
Of the presidents Twitter habits, I dont always agree what he tweets and I tell him that, she said. I give him my honest opinion and honest advice. Sometimes he listens, sometimes he doesnt. I have my own voice and my opinions, and its very important to me that I express how I feel.
When asked if she ever tells the president to put away his phone, Trump quickly replied, Yes!
« Back to LIVE
TOP STORIES