Karnataka win shows secular alliance can defeat BJP: Congress
November 06, 2018 19:21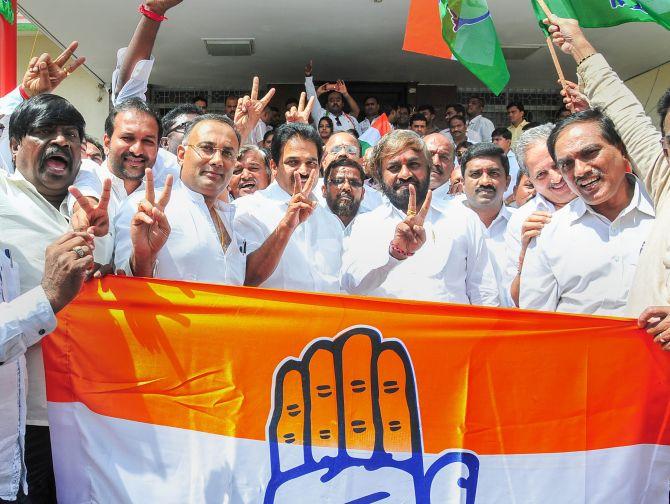 Congress-Janata Dal (Secular) combine victory in Karnataka bypolls indicates that the alliance with secular parties can defeat the Bharatiya Janata Party, senior Congress leader Prithviraj Chavan said on Tuesday in remarks that are viewed as endorsement of his party's bid to lead a front of such parties.
The JD(S)-Congress coalition candidates Tuesday won both the assembly constituencies and two of the three Lok Sabha seats in the bitterly fought by-polls held in the southern state last Saturday.
Buoyed by the development, Chavan said he had addressed two to three meetings in Jamkhindi assembly constituency--one of the two segments where bypolls were held--along with Congress leaders Siddaramaiah and Mallikarjun Kharge.
"The situation was good. The Congress victory in the BJP stronghold of North Karnataka belt is very significant. Similarly, the money power of Reddy brothers in Ballari Lok Sabha seat did not work and the Congress won with a huge margin," said the former Union minister.
Chavan said the BJP's ploy to polarise voters on communal lines failed in Karnataka.
"Today's victory proves that the alliance of the smaller, secular and regional parties with the Congress can defeat the BJP," he said.

Echoing Chavan, the Nationalist Congress Party on Tuesday said the coalition victory would 'strengthen' the process to unite the forces in the Opposition.
"The coming together of the Congress and JD-S has resulted in a big victory for them. It has showed how limited the influence of the BJP is. This victory will encourage and strengthen the process to unite the forces in the Opposition.
"The results show people are against the BJP, it is just that the Opposition has to show unity. Plus, the BJP has won one seat with small margin," said Maharashtra NCP president Jayant Patil.
State NCP spokesperson Nawab Malik attributed the Karnataka win to the 'Opposition unity'.
"The BJP wins whenever there is a division of votes,which did not happen in Karnataka by-polls," he said. -- PTI

« Back to LIVE
TOP STORIES