Indian gold demand rises 10 pc in Sep qtr; festive outlook muted
November 01, 2018 19:42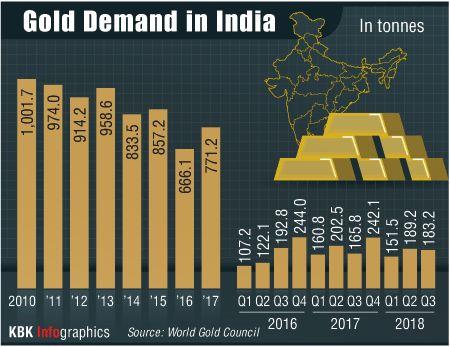 Indian gold demand during the September quarter registered a 10 per cent rise to 183.2 tonne from a year earlier, as prices fell significantly resulting in bargain buying, the World Gold Council said in a report Thursday.
Going forward, however, the seasonal spike in gold demand could be moderate this Dhanteras-Diwali, owing to factors like a lack of liquidity and rising prices.
According to WGC's 'Q3 Gold Demand Trends' report, in value terms, the country's September quarter gold demand went up by 14 per cent to Rs 50,090 crore, compared to Rs 43,800 crore.
"A dip in the gold price in the early part of the quarter to around Rs 29,000 per 10 grams (with taxes) its lowest level since January 2018 - spurred demand," WGC Managing Director, India, Somasundaram PR said.
The rupee's depriciation however, impacted the local price which surged sharply to around Rs 32,000-33,000 per 10 grams (without taxes) and demand eased towards the later half of the quarter.
"A combination of factors such as lack of buying occasions, disruption caused due to floods in a key gold market (Kerala) and an intervening inauspicious period affected demand," he added.
The last quarter of the year (October-December) is normally a vibrant period for gold related purchases as demand rises amid festivals and wedding season.
However, the seasonal spike in demand could be moderate this year due to factors like a "lack of liquidity, rising Indian prices and impending elections in some key states impacting trade logistics," Somasundaram said. -- PTI
« Back to LIVE
TOP STORIES